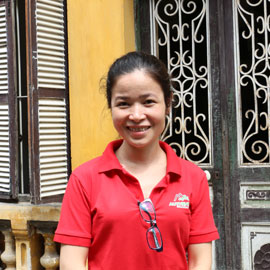 Dzung Nguyen
- Marketing and Customers Relation
""The best trip is the one we have not done yet" - Loick Peyron"
Hi, My name is Dzung Nguyen.
I come from Hai Phong city – one of the biggest port cities located in the north east Vietnam.
I work in Marketing and Customer Relation department of Authentik Travel. I love my job as it allows me to communicate with a lot of people from the world.

What is my favorite destination?
Among a lot of beautiful destinations, I prefer Phu Quoc Island also called Paradise on earth. It is distinguished by white wide sandy beach, wild forests and the local culture. One of the best ways to discover the lsland by motorbike. Rent one for a few days and explore the island on your own style. Discover the peaceful village and the forest. The island has all enough things to meet your needs.

What is my favorite season?
For me, the best season is autumn, it allows enjoying the cool and pleasant climate which is perfect time to discover the region.

What is the souvenir to bring home after the trip?
Among all the possible choices, I recommend you the handicraft products found in many villages from the north to the south such as ceramic, bamboo products, pearl inlaid products, lacquerware and embroidery…

Do not forget to put in your luggage:
Remember to bring your own medicines because sometimes it is difficult to find your kind of medicines in pharmacy.
What is my dream trip?
My dream trip is Egypt, I dream to discover the secret of pyramids, sail in the Nile River and meet the culture which is totally different from mine.