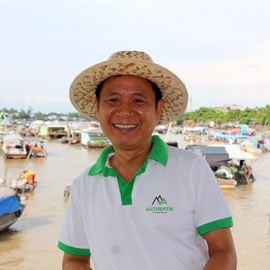 Truong Tran
- Travel consultant and Co-founder
""The traveler is the one who takes the time to meet and exchange" - Frederic Lecloux."
Hi, my name is Truong Tran.
I live in Ho Chi Minh City and I am one of the two founders of Authentik Travel. I graduated from French department of Hanoi University and hold an MBA from the Franco-Vietnamese management training center under the Hanoi National Economic University.
For 20 years, I have accompanied a large number of people throughout Vietnam. I know well every corner of our country, from the smallest traditional restaurants to the bigger typical ones. This was the experience that increased my desires to offer travelers the different trips from the ones offered by other bigger travel companies.
For me, travelling is an exchange, a discovery those can only be made by contacting with local people and putting the authenticity in the center of every step. These are criteria for us to create Authentik Travel.
I work as a leadership as well as a travel consultant, an operation manager for the southern part of Vietnam. I love this diversity of working because it allows me to contact closer to travelers while continuing to visit and look for the uncovered regions.
What is my favorite destination?
This is a difficult question since I love all the regions of my country, whether they are the splendid northern mountains, Halong Bay or Phu Quoc beach. Each ones have their own beauties. There are always friendly local people who share with pleasure their culture and their lifestyle.
What is my favorite reason?
I particularly love autumn. This is the most comfortable reason with the perfect temperature. It is good time to enjoy the beautiful landscapes.
What is the souvenir to bring home after the trip?
Do not leave without bringing back Non La – a conical hat or Ao Dai – a traditional long dress. They become a symbolization of Vietnam.
Do not forget to put in your baggage:
A camera and good pair of walking shoes.
What is my dream trip?
I dream of discover France and all its regions. Meeting the local and enjoy the variety of gastronomy.