About us
Are you looking for personalized experience? You are a solo traveler, a couple, a family or a group of friends. Authentik Vietnam Travel proposes all solutions to create and build together with you a dream trip to discover Vietnam, Laos, Cambodia and Myanmar.
In June 2012, two 10 year experience tour guides: Ngoc Tu Dinh and Van Truong Tran, together with a dozen passionate adventure team launched Authentik Vietnam Travel based in Hanoi, approved by Vietnam National Administrator of Tourism with full international tour operator license.
Initially, our market is French speaking and after 5 years of development with a lot of successes and great experiences in serving clients from France, Belgium, Switzerland, Canada… Therefore, we decided to widen business to English Speaking Market under the brand name Authentik Travel to share our travelling passions with travelers from over the world.
We are local Travel Company specialized in TAILOR-MADE TOURS. We are well aware that each trip is unique and you must be free to create your holiday following your own desires based on the most relevant suggestions and advices from our local travel experts. Everything will be adapted to your expectation and your budget to make your trip unique and exclusive with better value for money.
What a better way to fully enjoy your trip on your own way and pace in each places, each encounter and each exchange whenever could be. Our drivers and professional tour guides are always at your disposal, whilst our team will assist you throughout the trip. Therefore, your trip is DEFINITELY PRIVATE from the designing till its end.

With our spirit to enhance the diversity and richness in both landscapes and cultures, the most beautiful ideas will be given out as much as possible based on your aspiration to make you live in the greatest AUTHENTICITY of each destination. Immersion out of mass tourism, high in colors and strong in emotions, these are our visions and commitments!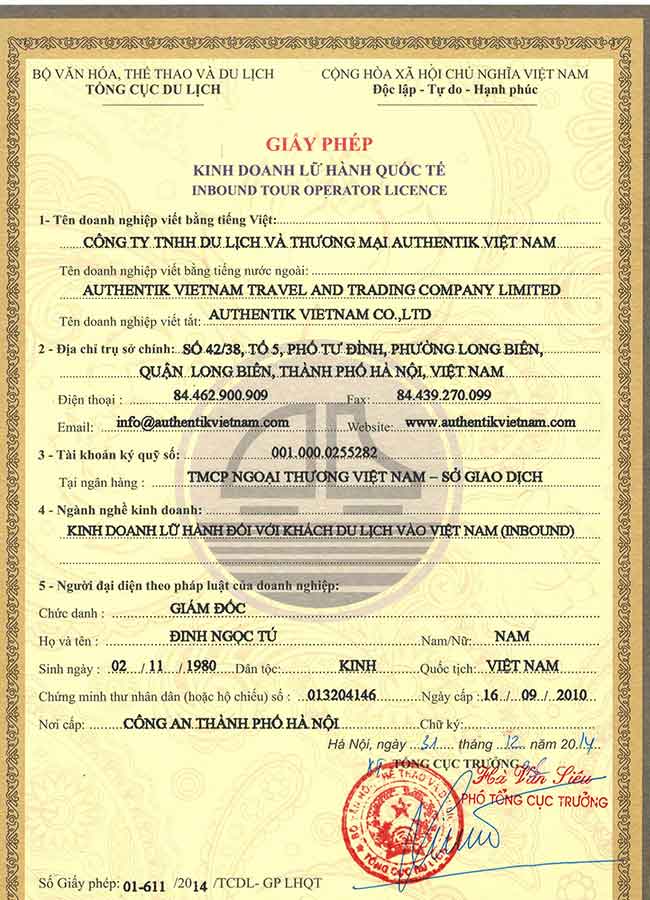 Why travel with us?
There are 5 reasons why you choose us:
- Personal English speaking travel experts.
- A professionalism based on experience on sight.
- We pay attention to your desires.
- Our quotation is completely free.
- We have the international tour operator license approved by Vietnam National Administration of Tourism.
- More than 7000 clients satisfactorily experienced our services.
- Access directly the local travel agency.
- No intermediator, local price, save your money.
- An authentic experience closes to the culture and inhabitants.
- Friendly and interesting activities (Tasting of typical foods, enjoying excursion by bikes or hiking, visiting beautiful villages, ect.)
How to begin a trip with Authentik Travel?
Go with us, it means you travel with local agency. Our concept is simple for your great trip. You just book your international flight tickets and we will organize all the rest of your trip. This is 7 steps to process a trip with us:
Step 1. Submit your travel plan
Please send us your travel plan with your desires, constraints, travel budget and your types of experiences.
Step 2. Receive our first quotation
Your application will be processed by one of our team's member who will be your personal travel consultant and at your disposal for your any additional information.
Step 3. Modify and Refine the quotation
Your quotation is completely modifiable. Our travel consultant and our team will stay by your side to refine your program to match your needs.
Step 4. Reservation and confirmation
Once the proposal has been confirmed. Our travel consultant will initiate to make all the reservations and send you back a final confirmed program and all useful practical information for your easier trip.
Step 5. Deposit and balance
We require a payment of 25% total amount to validate the reservations( by cards or bank transfer). The remain will be settled before or on your arrival date.
Step 6. 24/7 Services
Throughout your trip, we are available 24/7 to support you. Please contact us any time.
Step 7. After trip
Upon your return home, we are delighted to receive your feedbacks and recommendations on our site or any travel forums to let us know you are impressed and satisfied with our services.
Every day, we work together to place our clients in to the center of all our actions with only one credo:
"Our performance is for your perfect customized trips".