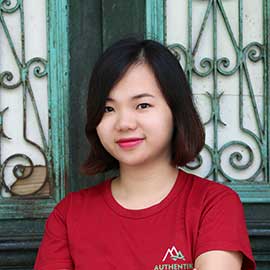 Ly Nguyen
- Travel consultant
""Travel brings power and love back to your life" - Rumi"
Xin chào,
My name is Ly Nguyen. I have a great passion in travelling. With an open mindset, I am delightful to explore the world, meet new people and place my footprints around the world. In Authentik travel I can see everything on my wish list.

My favorite destination?
Even though I was born and grew up in Hanoi, this city never stops surprising me with its hidden charms. Every time explore Hanoi, I fall in love with it all over and over again.

My favorite season?
Autumn is always an apple in my eyes, not just because it is my birthday season but also because of the mild climate and poetic seen this season brings along.

What is souvenir to bring home after the trip?
I always bringhome those simple things like magnet, a postcard, a flag or just a falling leaf, whatever inspired and made me happy.

Do not forget to put in your luggage
It is my little travelling book that I continuously write down unforgettable memories during my adventure.

My dream trip?
It would be Iceland where I can see the northern light and the majestic mountain covered by snow.