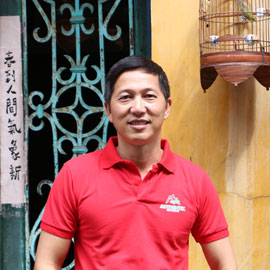 Thang Nguyen
- Travel consultant
"" Travel, like love, is an attempt to turn a dream into reality "- Alain de Botton"
Xin chào,
I am Thang Nguyen. My career began as a tourist guide and then I switched to a tour operator. These experiences allowed me to meet many people and take them to the most beautiful sights of my peaceful country. To me, traveling are conducive to connect with people and share our lives with them. It is the spirit that I find in everyday working at Authentik Vietnam. Confidently state that I am hardworking and particularly serious in my work. However, I am also enthusiastic and happy to continuously create new adventures.
My favorite destination in Vietnam
As soon as I can handle my tighten timeframe, I will make a little getaway to Hoi An. This would be my time to admire the ancient architecture, colorful landscape and fullest enjoy feel the pellucid air. Oh well, it is the mere evocation of this magical site that gives me the indescribable sensations.
The mountainous region of Northeast Vietnam is my grandiose place with fantastic landscapes that I want to explore. It is an extremely rich place culturally with its many ethnic groups in different costumes and customs.
Traveling tips
Learn as much about Vietnam as you can from the internet or from people who have already come here.
My favorite season in Vietnam
I have a preference for autumn with its beautiful blue skies and cool temperatures.
What memories do you bring back from Vietnam?
Sold at affordable prices, traditional dresses can be a great souvenir idea for you.
My dream trip?
Traveling around Europe especially in France to discover a brand new life style.