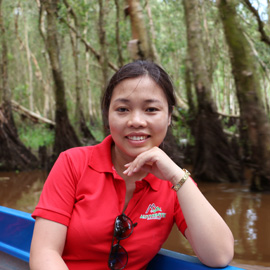 Diep Nguyen
- Tour operator and Accountant
""The journey of a thousand miles begins with a single step" - Lao Tse"
Hi, I am Diep Nguyen. I was born in the typical northern midland of Vietnam where the air is clean and there is variety of nature with palm forest, tea plantation, rice fields and mulberry gardens.

After high school, I passed the exams to Law University. I desired to become a Lawyer. However, life is full of exciting surprises to push me to work in another career with my passion: tourism.
I found an ideal place for my passion, it is Authentik Travel. This is a dynamic environment, human and personal value with respect.
In Authetik Travel Company, my travelling passion is inspirited. Every destinations, every people I met, all both gave me the unforgettable impression.
What is the favorite destination?
My favorite destination is Hoian. I did go there in the full moon (14, 15 of the lunar month). All in the river was radiant with the flower lanterns. This will seduce you. We prayed the best things.
A tip for travelers:
Travelling with your open heart without worry anything. Just be happy to enjoy your holiday, experience the interesting things.

What is my favorite season?
Every season has its own attractive in all the region of Vietnam. For me, I love the early of spring when the temperature is coolish. The Moc Chau plum and apricot flowers trees are in white bloom, covering all the forest. The children are playing the swing under the trees.
What is the souvenir to bring home after the trip?
There are many choices. Long dresses ( Ao Dai) , Non La ( conical hat) are the typical of Vietnam. Otherwise, you can choose Chu Dau Ceramic, Ha Thai lacquerware, Kim Giao chopsticks (could reveal the poisons) from Cuc Phuong National Park forest.

Do not forget to put in your baggage:
Walking shoes, swimming suit, Mosquitoes repellent.

What is my dream trip?
Phu Quoc in my dream likes a paradise with blue water, long sandy beaches and range of coconut trees.
It is an attractive place from the north to the southern Island. And as a gourmet, fresh seafood in the Dinh Cau night market could not be missed.