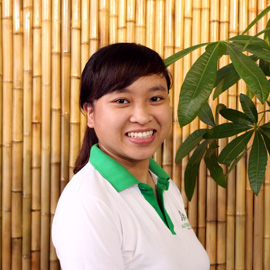 Linh Nguyen
- Travel consultant
"Nothing develops intelligence like travel. Emile Zola."
Hi! I am Thuy Linh, I graduated from Hanoi University- Translation and interpretation faculty. I come from Thai Binh. A small area which is well known for the most fertile rice fields in the North.
I love travelling that opens new horizons where I could get some unforgettable experience. Integration in Tourism gives me a chance to see the world in exciting ways and also to meet new interesting friends. Thanks to Authentik Vietnam, I have opportunities to share our passions with travelers. And accompany them to discover the great cultural, history and gorgeous landscapes of our country.
What is my favorite destination in Vietnam?
To me, it is Hanoi – our capital of Vietnam that is my favorite destination. I would like to wander across every ancient streets in the summer and enjoy coffee while watching the pedestrians. It is really peaceful. Moreover, this millennium city attaches millions of travelers to visit many romantic picturesque beauty spots such as Hoan Kiem Lake (Restored Sword Lake), Western Lake – an ideal place for the walkers of all ages. Its historical heritage with many centuries-Old traces will fill the entire history enthusiast like me. Moreover, the warm welcome of Hanoi citizen and their famous refinement in their gastronomy contribute to make this city more fascinating. In the fact, our capital is prized by gourmets around the world with its delicious flavor and odor that could not missed once in Hanoi.

Tips for travelers
Wherever you are, do not hesitate to connect with our open and friendly local people.

What is my favorite season in Vietnam?
I prefer the winter when Hanoi is both beautiful and mystical in the mantle of misty.

What is the souvenir to bring home after the trip?
Handmade products such as silk scarfs or ties… They are beautiful gifts for your family and friends. It is also a good way to remind you of a trip to Vietnam.

Do not forget to put in your luggage:
A camera of course.

What is my dream trip?
A getaway trip to Maldives.