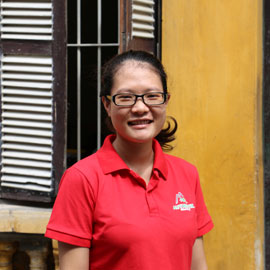 Hong Dinh
- Tour operator
""The real traveler does not know where he is going."- Chinese proverb"
Hi guys,
My name is Hong Dinh and I am currently working as a tour operator. I love traveling and discovering different regions of my country. In Authentik Vietnam, I find my dream job because it allows me to gain a lot of experience and travel. It is also a great opportunity for me to cultivate new knowledge, to work with interesting pears in Vietnam and to practice French, a language I love.
My favorite destination in Vietnam
Mu Cang Chai is an authentic ethnic minority village with its majestic and beautiful landscape. Taking nice photoshoot while admiring magnificent rice terraces or exploring the customs with a warm smile and cozy welcome from local people are all those things I love the most.
My travelling tip
Always have cash with you.
My favorite season in Vietnam
I am so falling for the end of winter when you can instill the fresh air of winter while already have the summer sun gray.
Memory I brought home
Why not a lover? This was my case in 2015 when I accompanied a group in the Sapa. The 5-day tour allowed me to meet my husband. Well, sometimes, you cannot predict what may happen tomorrow and all you can do is to let destiny lead your way.
Do not forget to put in your suitcase
A camera and sun cream
My dream trip?
Everywhere in Vietnam, as long as I travel with the one I love