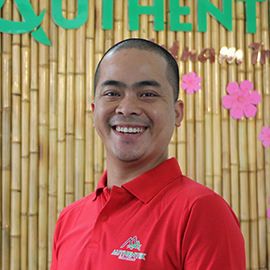 Son Nguyen
- Travel consultant
"" Travel is only thing you buy that makes you richer" - Anonymous"
Xin chào!
My name is Son Nguyen. I was born in the north of Hanoi in a small peaceful village. I went to Hanoi to study in Hanoi Open University. After Graduation, my friends and I planned 10 day motorbike trip. However, when I was on the trip, the beauty of landscapes and amazing friendly local people made our trip up to 27 days. The trip inspired me and this was the way that I stepped into Tourism.
Started as an English speaking Tour Guide which gave me not only great chances to meet many people who come from all over the world but also chance to explore my beautiful country. I would like to bring you to discover our culture with locals' smiles. Be with you to conquer a lot of gorgeous trekking routes or take you to the World Heritage -Halong Bay where you could be lazy on a cruise. And you should not missed white sandy beaches…

What is my favorite destination?
It is Hoian – the charming town in center of Vietnam brings to me all needs for my vacation. Friendly people, colorful city, delicious seafood, rural countryside and beautiful beaches are all in this area. That is why I and my family often go to Hoian for our holiday. I also recommend a lot of clients traveling to this wonderful place.

What is the souvenir to bring back after the trip?
For me, it should be some handcraft products from minority people which you can easily find in many local markets, even in city shops. The souvenirs are the convergence of our culture. They could remind you of an unforgettable trip to our country.

Tips for travelers
Bring a notebook to write a diary everyday then you will have an exciting story after your trip.
What is my favorite season?
Summer is my season. I love sunny days in summer and my family could be happy together on a beach vacation.

What is my dream trip?
My dream trip is travelling to Africa to join a Safari trip. It will be very exciting. I could stay in a Jeep and listen to the sound of the wild.