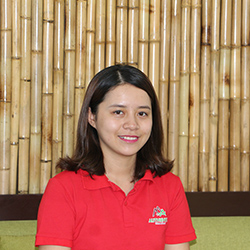 Van Anh Tran
- Travel consultant
""Jobs will fill your pockets but adventure will fill your soul " - Jamie Lyn Beatty"
Xin chào!
My name is Van Anh Tran. I was born in a small town which is 100km from Hanoi and I didn't have many chances to travel or take holiday through my childhood. That's the reason why I determined to learn and work in Tourism Industry to fulfill my childhood dream. Working as a Travel Consultant, I not only have opportunities to travel around Vietnam but also share my passionate with foreigners who wish to discover Vietnamese people and culture.
What is my favorite destination?
There are so many attractive destinations in Vietnam that tourists can visit and experience a wonderful holiday such as Nha Trang – the beautiful coastal city, the flowery city Dalat, Hoi An Ancient Town and so on. However, for me, Ha Giang is one of my most favorite destinations. Going sightseeing in Ha Giang by motorbike with my lover may be the most memorable adventure in our lifetime. Travel by this way, we had a wonderful opportunity to admiring the majestic beauty of the high rocky lands and meeting local hospitable people. We were very lucky to experience an ethnic market which was very authentic and there were not any "outsiders" except us  This is a bustling and crowded place where the necessary goods for daily life are sold. The atmosphere in the market is pretty boisterous with a lot of buyers and sellers bargaining each other.
What is my favorite season?
I was born in late autumn so there's no doubt to say that I love autumn most. When autumn comes to Hanoi, sunlight is scattered on the streets, cool wind begins to blow, the sky is brilliant blue, and trees quiver in the light breeze. In this season, walking around Sword Lake is truly a pleasure to release us from the stress and worry of life.
What is the souvenir to bring back after the trip?
After a trip, souvenir is a "must-buy" item which reminds you about touchable memories from visited places. Don't hesitate to ask your tour guides the trustworthy shops to take a tailor made AO DAI dress which was recognized as a national wear for Vietnamese females.
Do not forget to put in your luggage:
Comfortable walking shoes/sandals which are the best and great companion to take you to good places.
What is my dream trip?
Admire the sunset over Santorini with my lover. Sunset in Santorini rank up there with some of the best in the world.