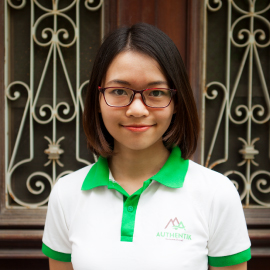 Thuy Hang ( Kayla)
- Travel consultant
""The soul of a Journey is liberty, perfect liberty, to think, feel, do, just as one pleases" - William Hazlitt"
My name is Thuy Hang or simply call me Kayla in English.
Originally from Hung Yen province, just only 60km from the east of Hanoi, I am familiar with Vietnam countryside and its hidden corners. I never get tired of seeing these landscapes that are so beautiful. I visited many places in Vietnam to discover the different richness of our cultural customs. Thanks to Authentik Travel, I have opportunities to share my passion with travelers to discover our homeland.
What is my favorite destination?
Certainly, it is Danang, a young, dynamic and modern city. This is known as one of the best city in Vietnam and good to live there. Danang is also prized by its beautiful beaches which are not yet invaded by mass tourism.
From Linh Ung pagoda or Clould Pass are good places to have a great panorama of the city and long white sandy beaches. The hospitality from local people will satisfy all the tourists.
Traveling tips
Do not hesitate to contact the locals as Vietnamese people are very nice and hospitable. Tasting the local cuisines as soon as you have opportunities. It will be great experiences that should not be missed.
What is my favorite season in Vietnam?
It is spring, the most pleasant climate. Moreover, in Vietnam, the spring comes to the day after Tet making the New Year and so good news resolutions.

What is the souvenir to bring back after the trip?
When visit Vietnam, ask your tour guide the good quality shops. He/she will advise you.
You could by the coffee, tea, scarves and silk clothing. You can please your loved as the quality is very good.
Do not forget to put in your luggage
of course, your camera
What is my dream trip?
Going to Maldives to enjoy gorgoes beaches and great sunny days!