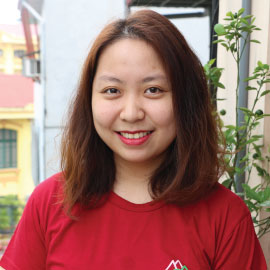 Thu Ha
- Customer care and marketing
"The world is a book and those who do not travel read only one page St. Augustine"
Hi, my name is Thu Ha, I am a member of customer care – Marketing department. I was born in Hanoi, the capital of Vietnam. This is the political and cultural center of our country. I am really impressed by our city.
Tourism came to me incidentally while I was looking for a job that adapt to my marketing passion. This is a work that gives me a lot of experience to the interesting destinations in Vietnam.
Above all, in Authentik Travel, I have chance to work in professional and dynamic environment.
My favorite destination?
Vietnam is a cultural diversity and typical oriental country. And all the places I have visited, I love Hoian most. It is well known not only for good foods, typical flavor such as Quang noodle, Trang cake with pork, Xeo cake with raw fish… but also for Cham Island ( not far from the town) with a long white sand and turquoise water. In here, you can immerse yourselves in the clear water, relax in the nice sandy beach and enjoy the typical seafood.

My favorite season?
For me, it would be June, it is also my birthday month. Hanoi comes to the long summer holiday with strong sunshine. However, this is the great time for travelling for everybody after a year of hardworking and studying.
Summer is the traveling season, to relax, meeting friends and enjoy the tropical fruits such as: longan, litchi, rambutan and durian…
What is souvenir to bring home after the trip?
I had studied in France and Every return to France after summer holiday in Vietnam, I usually brought Vietnam coffee as a gift for my French friends. They are interested in Vietnam coffee because of the good smell and typical flavor. No surprise as Vietnam is the world's second-largest exporting of coffee
Do not forget to put in your luggage:
Medicine, mosquitoes repellent, umbrella, especially your camera to capture the beautiful moments during your journey.
My dream trip?
I wish to return France in the near future because this is the city with full of my youth memories.