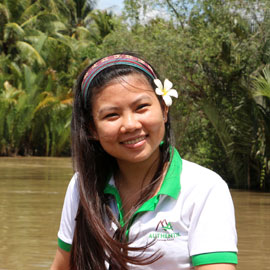 Hoa Duong
- Travel consultant
""We travel not only for changing the location but also our minds" - H.Taine"
Howdy,
I am Hoa Duong, from Mai Chau – a beautiful valley in the north west of Hanoi. I would have stayed in a small village as all other girls of Thai ethnic, if I had not fallen in love with French language. I began to familiarize myself with French by listening to the children songs taught by some tourists when they were in their trip in Mai Chau. I was seduced by the melody even I did not understand any words.

Because of the passion about this language, I decided to study it in high school before continuing my higher education in Hanoi. I also did a Master 2 from a University of Nantes-Hanoi Branch.
After graduation, I worked in different fields before starting my career in tourism. I am so in love with this job. I have opportunities to make beautiful encounters. I can share my travel passion with other people by organizing a great journey to every corner of our beautiful country for them.

Travelling to many places in Vietnam, some countries in South East Asia and Europe, I well understand what travelers need when they travel to unknown country. In addition, for me, any trip to the beautiful landscapes, encountering with the local people is very important to discover their culture and daily life. With this spirit, I joined in Authentik, a dynamic young team with a lot of passions. Our first purpose is to support our clients to get the most authentic experiences in each trip.
What is my favorite destination?
I had chances to visit several corners of Vietnam. It is difficult to compare them because each place has its own beauty. However, I have a special love for the northern mountain, both for the landscapes and or the different ethnic groups living there.
A tip for travelers:
Do not hesitate to contact with locals. They are very friendly and hospitable.

What is my favorite season in Vietnam?
I prefer the changing period time from spring to summer in April/May. It is sunny and the scenery is so fantastic.

What is the souvenir to bring home after the trip?
I suggest craft products. Crafts are one of the main sectors of activities in Vietnam. From the north to the south, there are varieties of products which have their own characteristics.

Do not forget to put in your baggage:
A camera to record gorgeous landscapes and nice smiles of Vietnam.
What is my dream trip?
A trip to Cuba.