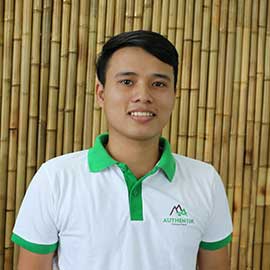 Hoang Anh
- Tour operator
""He that travels much knows much. Thomas Fuller"
Hi everyone,
My name is Hoang Anh. I graduated from interpretation and translation faculty of Hanoi University.
I come from Nam Dinh, the hometown of Tran emperors, one of the most famous feudal dynasty in Vietnam.
I love traveling and discover the new land, that is why I choose to work in Authentik Travel. in this professional and dynamic company, I have chance to discover all the region of country and understand more about people and their customs.
My favorite destinations?
For me, that is Northwest with grandiose mountain ranges, rice terraces fields and especially the colorful of ethnic ladies' costumes in this area.
My advice for the trip?
Just learn Vietnam in internet before your trip

My favorite season?
The autumn with the coldish weather.

Souvenir to bring home?
Ao Dai absolutely, this is our traditional dress of Vietnam women. From North to South, there are some different in style but all of them dedicate to the beauty of women.
Do not forget to put in your luggage?
Camera, because the landscape in Vietnam is so beautiful, bring your camera to capture every great moments.
My dream trip?
Europe to discover the culture and local peole.