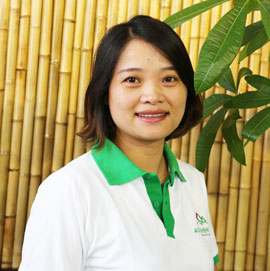 Ngan Nguyen
- Travel consultant
""Travel makes one modest. You see what a tiny place you occupy in the world." - Gustave Flaubert"
Ngan Nguyen
Hi, My name is Ngan Nguyen, a Hanoian – our capital with its charming beauty, its cultural heritage and historical millennium which seduce a lot of people come to visit.
I graduated from Hanoi teacher training college. I am as lucky as I have traveled a lot. I liked to discover new regions, taste l local foods and meet different ethnic groups to understanding their way of life.
That is why I am passionate about sharing my experiences on the richness of our country both in beautiful landscapes and history, culture through each destination and every local encounter.

What is my favorite destination?
Hanoi, the capital of Vietnam, located in the heart of Northern Vietnam. The numerous lakes and parks as well as the trees shading the avenue create a pleasant city.
Understand, I love Hanoi, beyond the historical and cultural appeal. I like the atmosphere which reigns in this city, the small cafes, old quarter and local people.
Around the city, there are many craft villages, crafts where you discover so many ancestral techniques.
It is great to combine a visit to craft villages with beautiful pagodas.
Above, The Hanoi people are very friendly with their hospitality to welcome tourists.
A tip for traveler:
Come to Authentik Travel to live with us on every hiking, meeting unforgettable moments, memories and especially the experience with full of authenticity. An adventure combines the relaxations and discoveries.
Join us to make your dream trip come true with our big suggestions.

My favorite season?
I love spring. I like the cool atmosphere, and what's more, it is the period of our traditional festival Lunar New Year and many other traditional local festivals all over our country.
What souvenir to bring back after Vietnam trip?
It is a good choice to bring home local handicrafts such as lacquerware, embroidery and silk… they will remind you of our country every time you see them.
Do not forget to put in your luggage:
Camera, of course and do not forget to take some necessary medicine to ensure a satisfying trip for yourself and your family.

What is my dream trip?
A great journey to European countries will be a nice chance for me to discover new civilization from different countries.