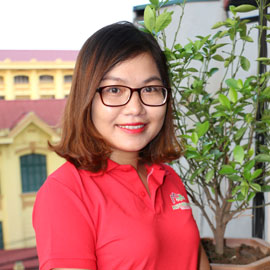 Nhung Nguyen
- Travel consultant
""Penelope was the last ordeal Odysseus had to face at the end of his journey" - Jean Cocteau."
Hi, my name is Nhung Nguyen, graduated from translation and interpretation of Hanoi College of Foreign Languages.
I dream of traveling around the world since I was a small girl. That is why I chose to learn foreign language as a way to open the door to new experiences.
After my study, I work in tourism which gives me a chance to discover the world in exciting way and also to realize my dream.
Thanks to Authentik Travel, I have a chance to share my passionate with traveler to discover my homeland.
A tip for Traveler:
Mark Twain said:" Twenty years from now you will be more disappointed by the things that you didn't do than by the ones you did so. So throw off the bowlines. Sail away from the safe harbor. Catch the trade winds in your sails"
So if you dream of Vietnam. Just come to enjoy without any delay.
What is my favorite destination?
Hoian is my favorite place. I come here every time I want to enjoy the peace, serenity. Breath the pure atmosphere and faraway from the pressure of daily life.
This town impresses me with its charm and romantic atmosphere. Especially in the falling, the town is full of thousand lanterns, I fell I lost in the fairy world where the time seems to stop. Just do as I do. Try to escape the worries of life and relax in the splendor of Hoian. You will fall in love with this town.
What is my favorite season?
I love the fall, when Hanoi is in the best time of the year with nice sunshine and cool. The red-leave trees, the streets are impregnated by the scent of Alstonia scholaris which remind of the memories and nostalgia.
What souvenir to bring back after the trip?
The souvenirs will undoubtedly allow you to remember a good time in our country. You can easily to find them in the shops in Hanoi, Hue, Hoian, Saigon or any destination in our country. Silk clothing, embroidery, lacquerware, conic hats, handicrafts…are objects that are highly recommended.
Do not forget to put in your luggage:
Your camera, of course, it is your perfect companion to remember the beautiful sceneries as well as good memories during the trip.
What is my dream trip?
It is a trip to Paris and Venice, walking along the street, hand in hand with my loves.