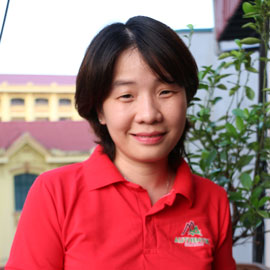 Xuan Tran
- Travel consultant
"" The most beautiful journey is the one which has not yet been made" - Loick Peyron"
Hi, Xin Chao!
My name is Xuan, sound likes « Swan », the meaning of my name is spring. That is one of the reasons why spring is the season I love the most in the year . Also in spring, the flowers bloom, a new year begins with fullness of new hopes and peoples are happy with many traditional festivals in Vietnam.
I could speak French and English fluently. I studied in Paris, Strasbourg, Aix-Marseille and on that time I was travelling to several regions of France and neighboring countries. I love traveling!
You always have some "first time" in life: the first time go to school, the first kiss, ... but you have not many "first time" in your whole life. However, by traveling to different destinations you will have plenty of "first time" and very new experiences. That's why I chose to work in the field of tourism. I would have the opportunity to discover the world, to know people and their culture, then I can share my experiences with all my passion.
What is my favorite destination in Vietnam?
Quy Nhon is my favorite destination. This province has many beautiful beaches, white sand, palm trees and turquoise waters. The peoples here are very friendly and cheerful, just say "Xin chào" and they will tell you about their life. However, " The most beautiful journey is the one which has not yet been made". (Loick Peyron)
Some souvenirs you can buy in Vietnam?
You will see lots of good things in Vietnam: coffee, tea, handmade embroidery, scarves and silk clothes. Do not forget to ask your guide for a good quality shop.
What is my dream trip?
One day I will travel on the mountains of the Alps to ski, stay in a wooden house, eat hot dishes and go to Christmas market in a small town with my little lovers.