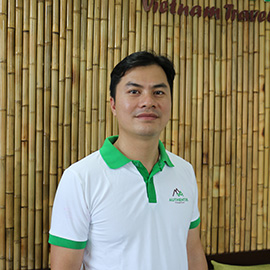 Hoang Dinh
- Sales Manager
"Traveling it leaves you speechless, then turns you into a storyteller. Ibn Battuta"
Hi, I am Hoang Dinh,

I was born and grown up in a beautiful village, 60 km from the north of Hanoi.
I am a humors and optimistic and simple person; I love travelling and discover the unseen places.

I started my ambition as a tour guide; I could help tourists to see our beautiful country with richness of culture, friendly people. Meanwhile, this is also a kind of travelling in mind when I had a chance to meet all the friends in the world and I learnt much knowledge from them.
After years, I was attracted by the great programs from Authentik Travel. They lead us to the difference from normal routes; discover the real authentic simple life. Therefore, I made up my mind to be a member of Authentik to support our tourists who love travelling to see and discover the authenticity.

My favorite destinations?
I love the beauty in the mountains in the north of Vietnam. The magnificent landscapes, stunning rice terraces, grandiose passes and idyllic villages with local people in the valley or in the mountain slopes will give you the great feeling as well as make your life to be simple and easy.

Tips for travelers:
Bring only the necessary things to enjoy your trip completely.

What is my favorite season?
Vietnam is tropical country, so I love the autumn, when the blue sky is high, it is sunny and comfortable temperature.

What is the souvenir to bring home after the trip?
Handmade products those are easily found in every destination. However, I recommend the embroidery pictures. They are very nice, great quality and easy to put in your luggage.

Do not forget to put in your luggage:
A flash and lighter

What is my dream trip?
A trip to Mongolia