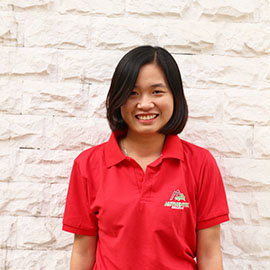 Anh Chu
- Travel consultant
"The gladdest moment in human life, me thinks, is a departure into unknown lands. Sir Richard Burton "
Xin chào,
My name is Chu Anh. I love travelling. I am currently working as Travel Consultant at Authentik Travel. I am happy to assist clients for their trip in Vietnam, Laos, Cambodia and Myanmar as well. Their satisfactions and happiness after trips encourage me working harder every day.
My favorite destination?
Hoian is on top of my list. I have been there for few times and I still want to come back. It is an ideally place with peaceful atmosphere, delicious foods, lovely old town and nice beaches nearby. You should not miss Hoian when travelling Vietnam. I am sure that you will love it at first sight.
My favorite season?
Each season has its own beauty but I love spring most. It's time to celebrate the Lunar New Year and family reunion.
What is souvenir to bring home after the trip?
Destination's specialties, photos and experiences.
Do not forget to put in your luggage
Travel guidebook is always with me every trip. It has some tips in each place such as nice places to visit, good restaurants and all useful information that makes the trip more interesting.
My dream trip?
I would like to travel as much as I can and New Zealand is my dreamland. This stunning landscape really attracts me. Would you like to visit The Lord of the Rings Trilogy filming locations? If your answer is "Yes", New Zealand should be on your list like me.