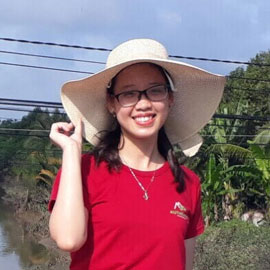 "" To stay is to exist, to travel is to live" - Gustave Nadaud"
Xin chào,
My name is Ngoc Linh and I am from Phu Tho Province. Travel is an integral part of my life and that's why I recognize myself particularly in the words of G. Nadaud: "To stay is to exist. To travel is to live." During my University years, I take advantage of each of my free time to visit the most famous sites in my country. I am always impressed and proud to live in Vietnam with many natural wonders as Halong Bay, Hanoi, Hue, Hoi An and Mekong Delta. Working for Authentik Vietnam is a bridge between me and my dream
My favorite season in Vietnam
My favorite season is autumn. During this period, the climate is most pleasant and nature is the most beautiful. It is also a season that people fell in love with the perfumes of Alstonia in Hanoi. Above and beyond, visiting the floating markets of the Mekong Delta and witnessing the rice harvest in the North West and North East mountains are also indispensable experience during The fall in Vietnam.
What memories do you bring back from Vietnam?
Urging you to look for local crafts, you can find ceramic in Phu Lang, Bat Trang or Kim Son village.
Do not forget to put in your suitcase
A well prepared pharmacy available in Vietnamese pharmacies being very different from what you can find at home.
What is my dream trip?
I dream of visiting Japan and discover beautiful landscapes and architecture of this country.