Northern Laos Adventure
Northern Laos Adventure - 08 Days
You will discover
Luang Prabang

LAOS

CAMBODIA
Tour Briefing
Day 01

Huay Xai – Luang Nam Tha (-/-/-)

Day 02

Luang Nam Tha – Trekking – Vieng Phoukha - Ban Nam O - Ban Nam Lo (B/L/D)

Day 03

Ban Nam Lo - Prasat Cave - Vieng Phoukha - Oudomxay (B/L/-)

Day 04

Oudomxay – Muang Khua – Muang Ngoi (B/L/D)

Day 05

Muang Ngoi – Nong Khaiw (B/L/-)

Day 06

Nong Khaiw – Pak Ou cave – Luang Prabang (B/-/-)

Day 07

Luang Prabang – City tour – Khuang Si Fall (B/-/-)

Day 08

Luang Prabang Departure (B/-/-)
You will be interested in:
Explore the mountainous areas with gorgeous landscapes, colorful ethnic minority people and peaceful picturesque villages.
Trek through the villages and green forests.
Camp by the Nam Ha River.
Enjoy the sunset over the river
Discover the historical caves
A boat trip along the river.
Explore the traditional local villages
Visit the highlights in Luang Prabang such as Vat Xien Thong or the temple of Royal city, Wat Visoun temple and Wat Mai temple
Immerse yourself into the stunning, turquoise Khuang Si falls.
DO YOU KNOW? THIS IS A PRIVATE TOUR AND AUTHENTIK TRAVEL COULD CUSTOMIZE IT TO FIT YOUR TRAVEL PLAN AND EXPECTATION!
Detail Program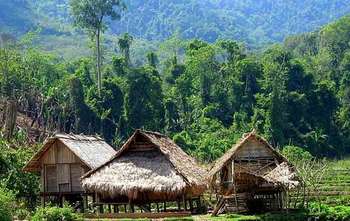 Day 01 : Huay Xai – Luang Nam Tha (-/-/-)
Our local tour guide will welcome and transfer you to Luang Nam Tha - a capital of the same name province. It is particularly quiet and relaxing, and generally represents an essential stop for those wishing to discover the natural wealth in the region of northwestern Laos.

Area Muang Nam Tha presents some points of interest: the museum of Luang Nam Tha, containing articles and a local section devoted to the revolution. Night market is a great place to taste the local foods.
In addition, Luang Nam Tha city is interested with the That Phum Puk stupa, perched on a hill surrounded by rice fields, and a waterfall, accessible from the Nam Sun village where you can see the process of bamboo papermaking. The region is famous for its huge evergreen forests, an ideal place for ecotourism.

Accommodation is at the Boat Landing Guest House, located in a pleasant environment along the river.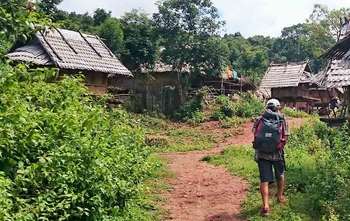 Day 02 : Luang Nam Tha – Trekking – Vieng Phoukha - Ban Nam O - Ban Nam Lo (B/L/D)
After breakfast, take a half a hour riding by Tuk-Tuk to Doiluckkam, where a local Khmu guide will join you on your journey.

The first day's trekking pace is moderate through the Nam Ha NPA where the guide will show you the edible and medicinal plants.
Then you will trek uphill and see some massive old trees, many types of bamboo and diverse forest plants. If lucky, you may see some wild animals such as: monkeys, wild goats and wild pigs. Our Khmu local guide will prepare the traditional picnic lunch.

After lunch, keep continue our trekking down from the mountain to your jungle camp, which we should reach by 4:30 pm, spending a night near the Nam Ha River. Besides resting, you are free to go fishing for dinner with your Khmu guide, stroll around the camp or enjoy a swim in the Nam Ha River close to your Jungle camp.

Overnight in Jungle Camp
Trekking 5 hours.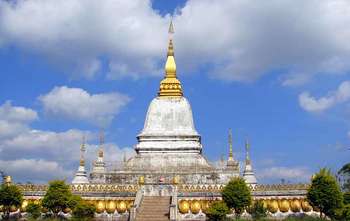 Day 03 : Ban Nam Lo - Prasat Cave - Vieng Phoukha - Oudomxay (B/L/-)
Enjoy the natural sounds in the early morning such as:, monkeys, wild pigs, barking deer, gibbons, and jungle fowl from the higher mountain.

You might be very fortunate if you spot some moving through the forest. Before breakfast, you are free to walk around the camp.
After breakfast at camping, you'll cross the Nam Ha River and walk through fields to reach and visit Ban Nalan, where your will learn about Khmu lifestyle, culture, and traditions.

Treking uphill to the forest, traditional lunch will be served en route on the forest path. Thereafter, you will have an easy two hour hiking down the mountain slope until you arrive at the Ban Chalernsouk, where our driver will be waiting for you and transfer you to Oudomxay.

Overnight at a guesthouse in Oudomxay.
Trekking 4 hours.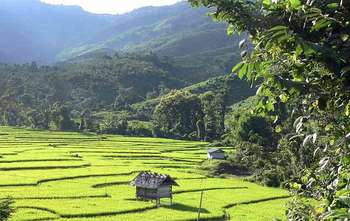 Day 04 : Oudomxay – Muang Khua – Muang Ngoi (B/L/D)
After breakfast, leaving Oudomxay for Muang Khua in the morning.

Continue our trip by boat cruise to Muong Ngoi (4-5 hours on board) . Muong Ngoi is one hour driving north of Nong Khiaw. The village is small and narrow paths lined with coconut trees and a common area where fishermen gather to mend their nets. It is really true lifestyle Laos in here. Time seems to have stopped.

Overnight in local guesthouse in Muang Ngoi.
Oudomxay – Muang Khua: 100km – 1.5 hours
Muang Khua – Muang Ngoi: by Private Boat 3.5 hours.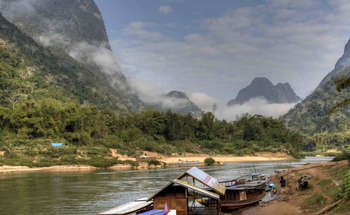 Day 05 : Muang Ngoi – Nong Khaiw (B/L/-)
Enjoy your breakfast at hotel and transfer to the pier for a boat trip to Nong Khaiw.

Following a lunch and visit the historical Phathok cave. The local Nong Khaiw villagers used this cave for as the shelter during the "secret war" to avoid from the bombing. The cave is only 30 minute walk from the town Nong Khaiw town and during the walk, immerse into the beautiful scenery and gorgeous vistas in the surrounding tropical mountains. From the cave, you will have a great view to the rice paddies and the valley, listening to the Laos history and explore the historical cave.

Enjoy a great sunset over the river.
Back to Nong Khiaw town and overnight there.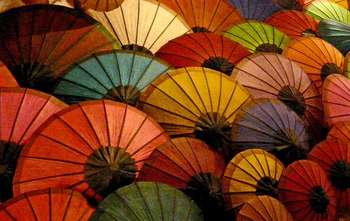 Day 06 : Nong Khaiw – Pak Ou cave – Luang Prabang (B/-/-)
Get up to enjoy the atmosphere in this peaceful town and breakfast before driving down south to Luang Prabang. Passing the picturesque scenery along the Nam Ou River.

After lunch, embark a boat trip to Luang Prabang and visit the Pak Ou caves at the confluence of the Nam Ou River and Mekong River. The cave is home to a pantheon of gold Buddha statues tucked into the nooks of the limestone cliffs. It is then only a short distance to visit from the caves to the village of Ban Xang Hai.

Encounter the locals and learn how to make LauLao (Laos whisky) and LauHai (Laos wine). Continuing down the Mekong to Luang Prabang. Check in at the hotel then take an evening stroll through the quaint streets and enjoy the sunset over the river and surrounding lush countryside.

The evening highlight includes a visit to the local night market in the city center, where ethnic minority people come together to buy and sell their wares.
Overnight in Luang Prabang.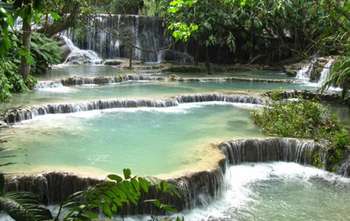 Day 07 : Luang Prabang – City tour – Khuang Si Fall (B/-/-)
After breakfast at your hotel, meet our tour guide and driver to go to Mount Phousi where you can enjoy a great panoramic view of the City and the river.
Take a short drive to Vat Xien Thong (the temple of Royal city). This is one of the most important Laotian monasteries and still remains a significant monument to the spirit of religion, traditional art and royalty.

The next stop will be Wat Visoun temple, dating back to 1513 and the reign of King Visoun . This is the oldest temple in Luang Prabang and was once the home to Luang Prabang Buddhas. Wat Visoun temple is with an unusual structure which represents the earliest Laotian style.
Follow this with a visit to Wat Mai, a beautiful temple built in the 18th century, located by the Royal palace. It is the biggest temple in Luang Prabang with beautiful decorations.
Enjoy a driving through rice fields and a beautiful small village. Make some stops to discover their daily life before reaching Khuang Si fall, a gorgeous turquoise waterfall. Refresh and swim in the clear water.

Return to city and spend the rest of day at your leisure.
Stay overnight at a hotel in Luang Prabang.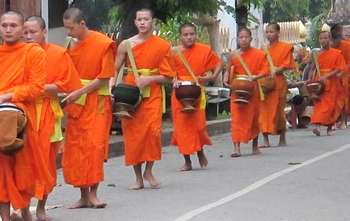 Day 08 : Luang Prabang Departure (B/-/-)
Enjoy your breakfast at hotel, relax or explore the town on your own at last minute before meet our driver for a transfer to airport for your flight home or next destinations.

Tour ends.
Service Included
Accommodation in a shared twin or shared double room with daily breakfast
Tours and transfers as mentioned by private air conditioned vehicle
Boat trips as mentioned in the itinerary
Local English speaking guides
Meals where mentioned (B= breakfast; L= lunch; D= dinner)
All entrance fees
Water on tour.
Service Not Included
International flight tickets from/to your country
Laos visa
Travel insurance
Others not mentioned
Drinks, other than water on activity days
Personal expenses (laundry, telephone, drinks, tip...)
Other tours
Create your own trip or see other travel ideas
What clients say about us?