Vietnam Motorbike Tour
Vietnam Motorbike Tour - 08 Days
You will discover
Dong Van

Ha Giang

Bac Ha

Ba Be

Ha Noi

LAOS

CAMBODIA
Tour Briefing
Day 01

Hanoi - Thac Ba (L/D)

Day 02

Thac Ba - Bac Ha (B/L/D)

Day 03

Bac Ha - Hoang Su Phi (B/L/D)

Day 04

Hoang Su Phi - Ha Giang (B/L/D)

Day 05

Ha Giang - Dong Van (B/L/D)

Day 06

Dong Van - Meo Vac - Bao Lac (B/L/D)

Day 07

Bao Lac - Ba Be Lake (B/L/D)

Day 08

Babe Lake trip - Ride to Hanoi (B/L/-)
You will be interested in:
Ride on the amazing roads with beautiful landscapes.
Discover the ethnic minority groups and their daily customs.
Marvel at the pristine rice terraces and ethnic villages.
The grandiose Ma Pi Leng Pass.
Enjoy the splendid panoramic views in the Me - Lup - Tha villages.
A boat trip on Ba Be Lake.
Discover traditional local dishes and specialities.
DO YOU KNOW? THIS IS A PRIVATE TOUR AND AUTHENTIK TRAVEL COULD CUSTOMIZE IT TO FIT YOUR TRAVEL PLAN AND EXPECTATION!
Detail Program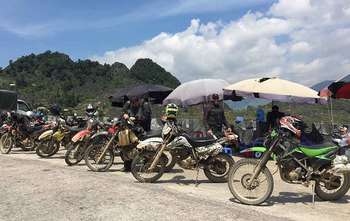 Day 01 : Hanoi - Thac Ba (L/D)
Our professional English speaking will meet you at your hotel and transfer to motorbike garage to take dirt bikes for your trip (125CC).

After some first training and learn the traffic regulation with our guide, we will depart to Thac Ba - inhabit of Zao ethnic with white trousers. This is good ideal resting place as it's an ecological lake used for hydroelectricity. In front of your eyes, you will admire the huge valley covered by water and numerous hilltops from the hundreds of islets which bring a certain charm to the lake
Arrive in Vu Linh, Thac Ba, check in at your homestay and enjoy the lunch.
In the afternoon, Leave your motorbike at the village and take a boat trip in the magical lake. The first stop is to discover the village of the Zao ethnic group with white trousers.
Go back to the homestay to freshen up and have dinner.

Overnight in the house on stilts (mattress, mosquito nets, outside wc)
Riding time: 3-4 hours – 170km.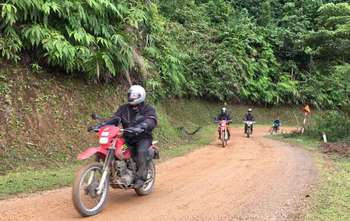 Day 02 : Thac Ba - Bac Ha (B/L/D)
In the morning, we could ride along the shores of Thac Ba Lake in the center of a verdant wilderness. Along the way, encounter the untouched ethnic groups of Tay and Nung in the middle of authentic villages with hundreds of house on stilts covered with thatch.

Depart to Bac Ha, located at an altitude of 1000m. Bac Ha is home to several ethnic groups such as the colorful Hmong, Phu La and Tays. Bac Ha is well known for its colorful, weekly Sunday market surrounded by wild and beautiful scenery. Bac Ha market is not only for the exchange of goods, but it has also been for the cultural exchange of the ethnic groups for centuries.

Lunch on the way and arrive in Bac Ha in the late afternoon.
Enjoy your stay in Bac Ha.
Riding time: 4-6 hours – 180km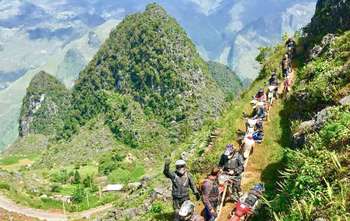 Day 03 : Bac Ha - Hoang Su Phi (B/L/D)
After breakfast, we ride to visit the town and If we are travel on sunday we could visit the colorful Bac Ha market.
Enjoy a ride to Sin Man, a town at the border between Vietnam and China. En-route, you will take a trip to the center of Lung Cai – Lan Ma communes. Discover the villages, primary school and boarding school for ethnic children, who stay at the boarding school the entire week. This is a great opportunity to interact with teachers and students.
From Lan Ma, we will ride down the Lan Ma pass, passing through authentic Hmong villages, a splendid landscape where you can admire the magnificent rice terrace fields.

Keep riding on the beautiful mountainous road to Hoang Su Phi.
Overnight in Vinh Quang town and enjoy a dinner in a simple local restaurant by the stream of the town.
Riding time: 5-6 hours – 100km.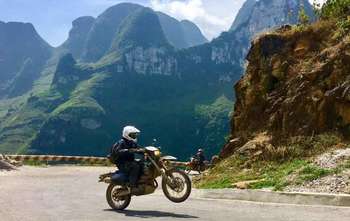 Day 04 : Hoang Su Phi - Ha Giang (B/L/D)
Hoang Su Phi is well known for great rice terraces. This is the non-touristic area. The great way to discover this land is by motorbike. Riding along the zigzag roads to capture the great views of the valleys, rice terraces and splendid mountain ranges will be a highlight in your experiences.

Arrive in Ha Giang in the middle of the afternoon, beginning a trek to the Me - Lup – Tha Village. Featuring serene beauty, these villages are made up of hundreds of houses on wooden stilts covered by palm leaves. In front of the houses, there are small ponds for raising fish and water hyacinth cultivations for pigs. You will be welcomed by big smiles from the villagers testifying to their legendary hospitality. Visit a typical house and discover the local daily life.
Arrive in Tha Village, a village on the palm hills with rice fields where you can rest in the serenity.

Check in your home stay and take the rest after a long day riding. Walk around the village to catch the rhythm of daily life in the mountain before sunset.
Enjoy local delicious dinner.
Overnight at home stay (basic comfort, house on stilts)
Riding time: 6-8 hours – 150km.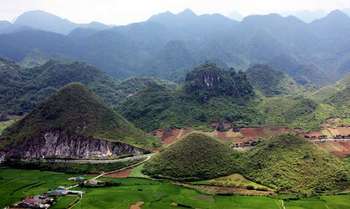 Day 05 : Ha Giang - Dong Van (B/L/D)
Breakfast at homestay, say goodbye the host and get on your bikes for another adventurous day to Dong Van - Karst Plateau Geopark – home to Hmong ethnic people.

Riding pass through the magical landscapes. Enjoy a rest at Quan Ba pass, view of the town and the famous twin fairy mountains (Nui Co Tien).
After Quan Ba, you will enter the Limestone rock plateau zone, considered as mountainous Halong Bay. This majestic natural treasure has been listed in the World Geological Park book.
On the way, you will discover "Nha Trinh Tuong" by a walking to the Lung Hoa Village. This is the typical house of Hmong people in the village which is built on sticky ground.
Next, visit the Palace of the Hmong King, Dinh Vua Meo. Dating back 100 years ago, far from the plain, the regions of Quan Ba, Yen Minh, Dong Van, Meo Vac created an autonomous zone with their own king.
They cultivated poppies and their economy was based on the opium business with China.

Arrive in Dong Van, check in Hotel and relax.
Riding time: 6-8 hours – 150km.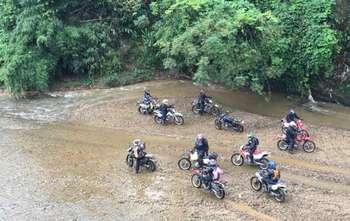 Day 06 : Dong Van - Meo Vac - Bao Lac (B/L/D)
In the morning, it's possible to visit Dong Van and Meo Vac market on Sundays.

After breakfast at hotel, we will ride from your hotel in Dong Van to Meo Vac by crossing Ma Pi Leng Pass which seduces you with the breathtaking view of limestone mountains, Nho Que River and Hmong Villages nested in the mountain.

Continue to Bao Lac. This is well known for the Black Lo Lo ethnic group. This region was highlighted by the French media, "The journey into unknown land". This documentary was filmed in Khuoi Khon village of the Lo Lo people, 9km away from Bao Lac town, by the rugby player, Frederik Michalak.

Lunch is served in Bao Lac town and check in to your hotel.
In the afternoon, we ride to Coc Xa Village, in the Na Van commune. This village of the Lo Lo ethic group remains more authentic then Khuoi Khon village which became more touristic after the famous documentary. Walk through the rice fields and trails in the village, visit the local people's houses, and talk with the hosts to understand more about the local life as well as their traditional customs.

Back to the town, park your motorbikes, shower and enjoy dinner. Overnight in hotel.
Riding time: 4-5hours – 150km.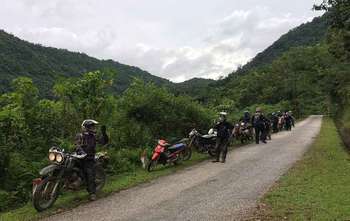 Day 07 : Bao Lac - Ba Be Lake (B/L/D)
Depart to Ba Be via Tinh Tuc. 30km from Bao Lac, in Hung Dao commune, there is a beautiful village of San Chi ethnic. Of course, we will stop to visit and discover the beauty of the village. You are one of a small number of travelers who get to visit this area because of its hidden location behind the hill.

The village has hundreds of houses on stilts nested on the side of mountains and views of the beautiful valley.
To reach to the village, you will have to walk up a steep 2km incline. The higher you ride, the better view you get. Visit a family to understand the authentic life of this ethnic group.
Continue to Ba Be, where you will be surprised by the magnificent nature where the mountains gently meet the valleys of rice terraces. Stop to film or take photos whenever possible.

Upon arrival in Ba Be, check in at your accommodation at Pac Ngoi Village and ride through several villages of Tay ethnic groups to Hua Ma cave (5km from the village). This is an attractive place with amazing formations of stalactites and stalagmites.

Back to village for dinner and home stay in the late afternoon.
Riding time: 6-7 hours – 180km.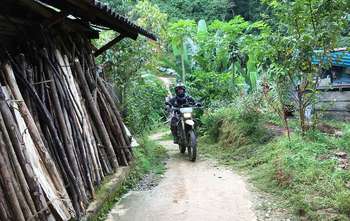 Day 08 : Babe Lake trip - Ride to Hanoi (B/L/-)
In the morning, take a 20 minute walk from the village to the pier to enjoy a boat trip on the lake (It is possible to swim in the lake). Stop to discover the Fairy Pond in the middle of the primitive forest.

After the lake, move to Nang river. Walk along the river bank and be immersed in the beauty of wild and reach Dau Dang water fall. Keep continue our boat trip in the opposite direction along the Nang River to Puong Cave home to thousands of bats inside the cave.

Boating to the pier, walk again back to the village; enjoy lunch before riding back to Hanoi.
Arrive in Hanoi in the late afternoon. Leave our motorbikes at our garage and transfer by taxi to your hotel. End the Vietnam motorbike tour.
Riding time: 5-6 hours – 250km.
Tour ends.
Private tour price
Group size
1 pax
2 pax
3 - 4 pax
5 - 7 pax
>8 pax
Grand total price/pax
1480
950
750
640
Contact us
Single Supplement
65
Service Included
Accommodation with daily breakfast
Motorbikes 125 CC dirt bike( Yamaha XTZ, YBR) Other options on your request.
Unlimited distance.
Helmet, water and snacks on riding days.
All entrance fees
Professional Motorbike tour guide with excellent in English.
Meals as indicated (B=Breakfast, L = Lunch, D = Dinner)
Vietnam Visa approval letter.
Taxes and service charges.
Service Not Included
International flight tickets from/to your country
Travel insurance
Gasolines ( about 10 USD/day)
Personal protection gears.
Mechanic and support truck (on request)
Meals not indicated
Personal Expenses: laundry, drinking, telephone…
Tips and gratuities
Other tours
Create your own trip or see other travel ideas
What clients say about us?