Vietnam Discovery
Vietnam Discovery - 18 Days
You will discover
Sapa

Ha Noi

Ha Long

Ninh Binh

LAOS

Hue

Hoi An

Nha Trang

CAMBODIA

HO CHI MINH

Can Tho

Vinh Long
Tour Briefing
Day 02

Hanoi full day city tour (B/L/-)

Day 03

Hanoi – Ninh Binh – Van Long (B/L/-)

Day 04

Van Long – Thien Ha – Thung Nham – Hanoi – night train to Lao Cai (B/L/-)

Day 05

Lao cai – Sapa trekking Cat Cat – Y Linh Ho – Lao Chai – Ta Van (B/L/-)

Day 06

Sapa –trekking Ma Tra – Ta Phin village – night train to Hanoi (B/L/-)

Day 07

Hanoi – Halong (B/L/D)

Day 08

Halong – Hanoi – Fly to Hue.(B/L/-)

Day 09

Hue City tour (B/L/-)

Day 10

Hue – Transfer to Hoian (B/-/-)

Day 11

Hoian full day discovery (B/L/-)

Day 12

Hoian – Danang – fly to Nha Trang (B/-/-)

Day 13

Free at the beach (B/-/-)

Day 14

Nha Trang – fly to Ho Chi Minh city (Saigon) (B/-/-)

Day 15

Saigon full day city tour (B/-/-)

Day 16

Saigon – Cai Be – Can Tho (B/L/-)

Day 17

Can Tho – Saigon (B/-/-)

Day 18

Saigon – Departure (B/-/-)
You will be interested in:
Visit Hanoi with its famous sites especially the Ho Chi Minh Mausoleum complex, temple of literature and ethnic museum
Walking in the old quarter of the Vietnam capital
Boat trip inside the cave and among the river surrounded by limestone mountain in Ninh Binh
Visit the ethnic village and beautiful valley in Sapa
Magnificient rice terrace
Beautiful cruise trip on Bai Tu Long Bay with easy and interesting activities.
Visit history sites in Hue
Stop on the top of Cloud pass with great panorama view.
Peaceful Hoian and sunset boat on Thu Bon River. 
Uncover the lifestyle in Hoian as well as walk in the ancient town to admire the nice treets with traditional typical houses.
Beach break in Nha Trang
The Reunification palace (or the war memorials Museum), the Notre Dame Cathedral and the Central Post Office in Saigon
Mekong Delta River discover with its floating market and traditional handicraft villages.
Detail Program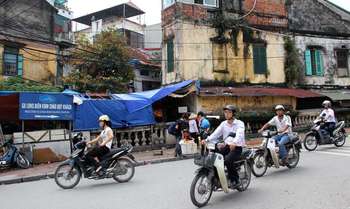 Day 01 : Hanoi arrival (D)
Our Authentik Travel's tour guide and driver will welcome you at airport and transfer to Hotel in the city center.
Our tour guide will give some first briefing information about our country and enjoy a welcome dinner in a finest local restaurant.
Overnight in Hanoi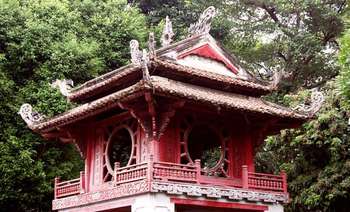 Day 02 : Hanoi full day city tour (B/L/-)
After breakfast, enjoy a full day to discover Hanoi city. Starting from Temple of Literature - the first University of Vietnam built from the 11th century by Emperor Ly Thanh Tong. Continue to visit Chua Ha (Ha Pagoda) known as a sacred place to pray for the luck in love, especially for the future spouse.

After that, transfer to Ethnology Museum (closed every Monday) which offers a deep insight into our Vietnam cultures through traditional costumes, tools, music instruments and real typical traditional house of many minority ethnic groups. Enjoy a special water puppet show in the museum garden.

Lunch is served in Cha Ca Thang Long restaurant (Grilled fish with vermicelli) a Hanoi specialty.

In the afternoon, discover the Ho Chi Minh complex included: Presidential Palace, Ho Chi Minh House on stilts, fish pond.
For those who are interested in visit Ho Chi Minh Mausoleum: it is opened only in the morning and closed every Monday and Friday. We have to queue up sometimes to a couple of hours to go inside the mausoleum.

Transfer to the old quarter to visit the Hoan Kiem lake (Restored Sword Lake) and Ngoc Son temples in the middle of the lake.
Overnight at Hotel in Hanoi.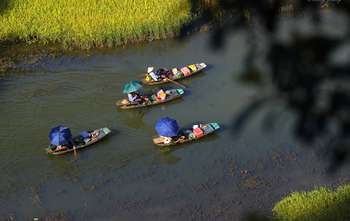 Day 03 : Hanoi – Ninh Binh – Van Long (B/L/-)
At 8.00am, meet our tour guide and our driver for a transfer from Hanoi to Ninh Binh by a highway, driving through a picturesque countryside of Red River Delta that is painted by rice fields and vegetable fields.

After 1.5 hour driving, you will arrive in Van Long (100km from Hanoi). You will see a typical 3 generation rural family. Welcome to their family by a cup of tea to show their hospitality. The family members, a little shy, are very open to share their idyllic local life in intimate conversation.

Take 15km riding (it is an optional) or you can walk cross the villages. And a journey along the dyke will offer you gorgeous landscapes of rice fields, river and limestone mountains. Several stops for your beautiful photos or encounter with the locals then walk to discover Thung La temple dating back the 11th century.

Meeting Mr Tuong – the temple guardian and enjoy an authentic conversations as well as 20 minutes of drums show.
Later, take a sampan boat trip along the stream and among limestone mountains to discover the beauty of Van Long Nature reserve. And if lucky, you could see white monkeys and egrets on the cliffs.
After boating, visit an embroidery village as well as take part in an embroidery course under the instructions of local craftsman – Mrs Lam. She will explain proudly the technic of her tradition craft. This will be a good opportunity for you to practice on a fabric like a real craftsman.
Overnight at Hotel in Ninh Binh.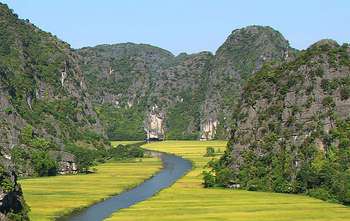 Day 04 : Van Long – Thien Ha – Thung Nham – Hanoi – night train to Lao Cai (B/L/-)
At 8.00am, enjoy a transfer to Thung Nham – Ninh Binh through luxuriant vegetation of the Red River Delta.
Arrive in Thien Ha Pier, Embark a small bamboo sampan boat. Start a fantastic 2 hour boat trip with the rower who is also the local peasant. The trip will lead you to the beautiful mystical limestone mountains.

The picturesque rural countryside is unfolded in front of your eyes: Buffalo, duck in the rice field, some simple houses under the foot of mountain… All make a beautiful idyllic rural picture.
Walk up to the Thien Ha cave (Celestial river Cave). This is a large new cave, found 2007. It is about 12 000 square meters, 700m length. And there are a lot of magnificent stalagmites and stalactites with different mystical shapes. We could walk the first 200m then another boat trip again inside the cave to discover its paradisiac beauty.

After Thien Ha visit, we travel to Thung Nham. Take a bike (optional) to ride through the rural villages, limestone mountains and impressive rice paddy to Tam Coc.
Lunch will be served at local restaurant.

In the afternoon, transfer to Hoa Lu – the ancient capital of Vietnam during 42 years under the Dinh and Le dynasty (978 – 980). Visit 2 temples are dedicated to the Dinh and Le King.
Return to Hanoi by 18.00.
Enjoy your own dinner before night train to Lao Cai. ( share 4 berth AC cabin)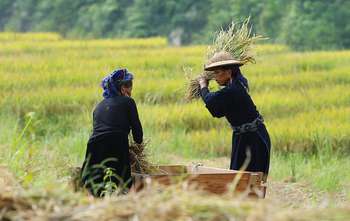 Day 05 : Lao cai – Sapa trekking Cat Cat – Y Linh Ho – Lao Chai – Ta Van (B/L/-)
Arrive in Lao Cai in the early morning, our local guide will pick you up at the railway station and transfer to Sapa town. Enjoy breakfast and leave your luggage at your hotel and start a discovery day to the Muong Hoa valley.

Transfer to Cat Cat Village of Black Hmong and enjoy a trekking day. Visit its beautiful waterfall then follow the path to Y Linh Ho village.
Arrive in Y Linh Ho Bridge, stop to relax a little bit then keep going to trek following the buffalo path through the hills. You will have chance to enjoy the splendid view over the rice terrace valley considered the most fantastic of the world.

Lunch will be served on the way.
After lunch take a short break before trekking to the Lao Chai village of the black Hmong and Ta Van village of the Zay peole.

At 16.00 meet our driver and transfer to Sapa
Walking distance: 15km – 6 hours.
Overnight in Sapa.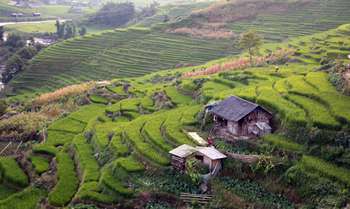 Day 06 : Sapa –trekking Ma Tra – Ta Phin village – night train to Hanoi (B/L/-)
Departure from your hotel for the hike following the itinerary: Ma Tra – Ta Phin which is less touristic.

The journey will lead you to the superb rice terrace valley, meeting the local people of Black Hmong and Red Zao ethnic group. They were original from south of China. They settled in Vietnam in the 11 century. They live in the high altitude and far away from modern world. This helps them to preserve their traditional, their own language and especially their ancestral way of life.

Make a stop on the way to visit a Hmong family in Ma Tra Village, and a school. After 3 hour trekking, you will reach to Red Zao village to pick up our car for transfer to the town.
Trekking distance: 12km – 3 hours.

In the afternoon, free to discover the town till meet our driver for a transfer to Lao Cai Railway station for train to Hanoi.
( Share 4 berth AC cabin).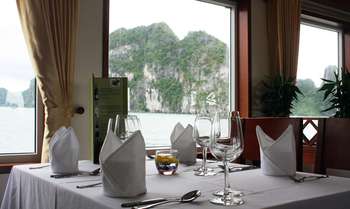 Day 07 : Hanoi – Halong (B/L/D)
Arrival in Hanoi in the early morning, check in a hotel by the railway station for your refreshment and breakfast.
At 8.00am, our driver will meet you for a transfer to Halong via Bac Ninh and Sao Do. Extensive rice fields as far as your eyes can see will follow you along the way.

12.00 Embarkation at Hon Gai port, enjoy welcome drink.
13.00 Lunch on boat with seafood while cruising in to the bay through the enchanting landscapes of Bai Tu Long Bay ( Small Dragon Bay)

15.30 Take part in activities according to the boat such as: visit Thien Canh Son cave, do kayaking, bamboo sampan ride to the Vang Vieng fishing village or just simply lazy on boat.
18.00 return to the boat, shower and take a rest.

19.00 enjoy a sumptuous dinner on boat
Overnight on boat with private cabin (with air conditioner and bathroom).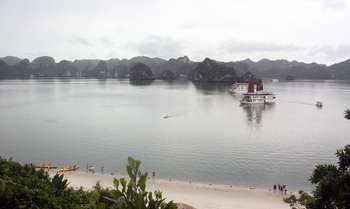 Day 08 : Halong – Hanoi – Fly to Hue.(B/L/-)
You are advised to get up early to enjoy the fresh air and sunrise in the beautiful scenery of Bai Tu Long.
Breakfast on the boat.

8.30 enjoy activities. Either visit the cave or embark a small bamboo sampan to visit Vung Vieng Fishing village, one of the spectacular floating villages in Halong. Encounter the locals and fishermen's farm as well as a floating school (depends on the boat's activity schedule)
9.30 return to the boat and check out the cabin.

10.00 cruise back to Hon Gai port. On the way back, we will enjoy lunch on boat. Last look at the legendary bay where dragons descended.
11.45 Arrive the pier and take a transfer back to Hanoi and directly to airport for a short flight to Hue.

On arrival, pick up and transfer to your hotel.
Overnight in Hue.
Note: Cruise's activities order will be depend on each cruises and tide. It is adjustable.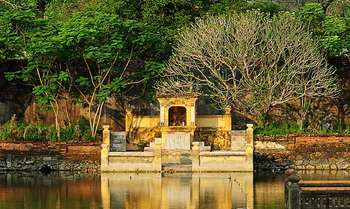 Day 09 : Hue City tour (B/L/-)
A discovery day of the poetic Hue city which was chosen as the capital of Vietnam from 1802 to 1945.
It is also the only city in Vietnam that has been able to preserve its citadel and hundreds of temples and pagodas. It was recognized by Unesco as world cultural heritage since 1993.

At 8.00, transfer upstream of the Perfume River to visit the emperor Minh Mang tomb, an architecture masterpiece that harmoniously highlights the nature and imperial religious works.
After that, we will take boat trip along the Perfume River to Thuy Bieu Village. The boat trip will offer you the picturesque landscapes on the two sides.

Lunch is served at Mrs Loan in the village of Thuy Bieu.

In the afternoon, visit Thien Mu Pagoda, one of the oldest pagoda in Hue, dating back 1601. This is a spiritual highlight of the city and well known for its majestic octagon tower and beautiful view to the Perfume River.
Then continue to the most anticipated site in Hue: Hue citadel, the only vestige symbolizes for what was once the imperial city of Vietnam.
During the visit, we will attend a traditional dancing show in the royal theater.

Back to your hotel in the late afternoon.
Overnight in Hue.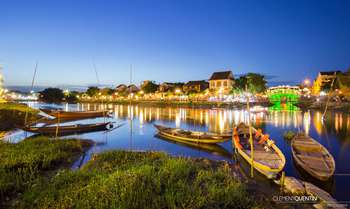 Day 10 : Hue – Transfer to Hoian (B/-/-)
This morning, we depart to visit Tu Duc Tomb. Certainly, it is the most beautiful and majestic architecture work among emperors Nguyen tombs.

Built in 1864 – 1867 this tomb is composed 2 parts: the temple and the tomb. There are 50 monuments in this tomb area. To perfect harmony with nature, it is surrounded by 2 lotus ponds on the both sides. The tomb is surrounded by statues of Lions, elephants and mandarins.

Discover the emperor worship house and his royal family, the theater and the area of tomb which contains a stelae built to relate his life.

Drive to Hoian via Mandarin Road and Sea Cloud pass ( Hai Van Pass). Stop on the top of the pass to enjoy the breathtaking view to the ocean and Danang city. Arrive in Danang, stop to visit Cham Museum which preserves the most important Cham culture collections in the world.

Then walk to My Khe beach where you could enjoy the view to giant Goodness of Mercy statues in the Linh Ung Pagoda. Take photos of fishermen activities by the beach.

Keep driving along the coastline to Hoian ancient town.
Overnight in Hoian.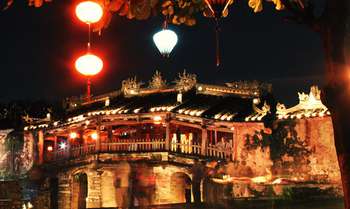 Day 11 : Hoian full day discovery (B/L/-)
In the morning, enjoy a city tour in Hoian ancient town which listed in Heritage of Human.

A real treasure need to be discovered: Hoian Museum, Japanese bridge, China Town, Quan Thang ancient house, the local market and the old busy port in the 15 century for the international boat and junks from China, Netherlands, Japan, and Poland...

Finally, visit silk factory (optional) of Thang Loi known as a good address in Hoian to have tailor made silk clothes.
Embark on a small boat in Hoian town then depart to Thu Bon River which was very busy exchange place and there were a lot of international ships in the 15 century. The boat trip will take you along the river to Cua Dai sea gate. This is a good chance for you to appreciate the landscapes of peaceful village by the river bank and admire the fishermen's activities on the river.

Enjoy the sunset in the late afternoon from April to November.
Overnight in Hoian.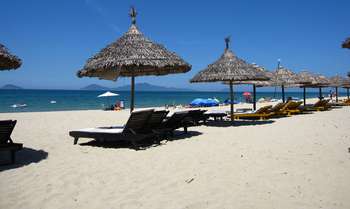 Day 12 : Hoian – Danang – fly to Nha Trang (B/-/-)
Free till transfer to Danang airport for short flight to Nha Trang.
On arrival, get a pick up to hotel
Free on your own at the beach.
Overnight in Nha Trang.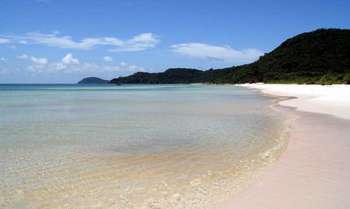 Day 13 : Free at the beach (B/-/-)
Free day on the beach to relax.
Overnight in Nha Trang.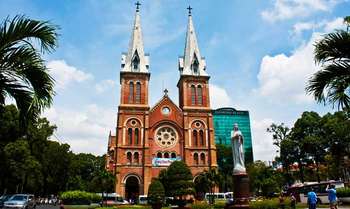 Day 14 : Nha Trang – fly to Ho Chi Minh city (Saigon) (B/-/-)
Free in the morning. Till get a transfer to airport for flight to Saigon in the afternoon.
Upon arrival, transfer to your hotel in the city center.
Overnight in Saigon.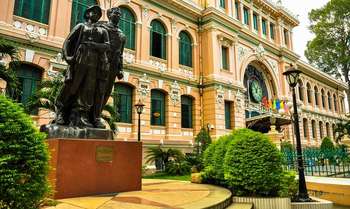 Day 15 : Saigon full day city tour (B/-/-)
After your breakfast, Enjoy a full day Saigon city tour.

Visit the Reunification palace (or the war memorials Museum), the Notre Dame Cathedral and the Central Post Office inspired by the Orsay Station in Paris.
Then transfer to Cho Lon District to discover its old quarter, the wholesale Binh Tay Market and Quan Am pagoda a colorful pagoda and one of the oldest pagodas in the city, its architecture and decorations have still remained since its construction.

Return to Saigon city for a walk in the city center, the former Catinat streets, exterior of Opera house, the city hall as well as Ben Thanh market
Overnight in Saigon.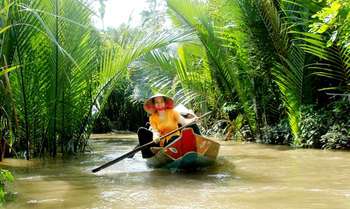 Day 16 : Saigon – Cai Be – Can Tho (B/L/-)
Pick up from your hotel and transfer to Cai Be ( 120km – 2.5 hour driving) visit a Cao Dai temple on route.

Upon arrival, embark a boat trip on the branch of Mekong River to Vinh Long. Experience the rhythm of life on the legendary Mekong River by a visit to Cai Be floating market and the canals with orchards.
Visit crafts workshops of rice popcorn, coconut caramel and rice cake…
Biking or walking on the village paths to discover the ancient and beautiful Phu Chau pagoda where the serenity reigns and meet the local people.

Enjoy a lunch in open air restaurant where you could taste a famous local specialty: The Elephant Fish ear, tasting great fruits, rowing a small rowboat in the canals which are shaded by the fruit trees.
Continue our boat trip to Vinh Long, meet our driver at pier for a transfer to Can Tho. Arrive in Can Tho in the later afternoon. Check in hotel and relax.

Free time on your own to discover the city by Mekong River.
Overnight in hotel in Can Tho.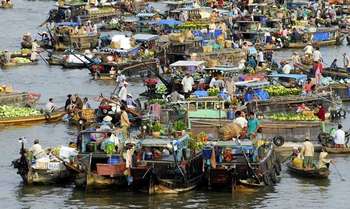 Day 17 : Can Tho – Saigon (B/-/-)
Breakfast at hotel and transfer to the pier for a boat trip to visit Cai Rang floating market, a largest and lively marking in Mekong Delta.
There are so many colors and smells in the bubbling atmosphere where hundreds of sampans are filled with goods such as rice, fruits, and craft products …all is shown to sell from the early morning.
We leave the market and continue the boat trip through the canals and visit a fruit gardens (or replace the garden by the nursery field by the river)
Back to An Binh Market which is full of fishes, fruits and vegetables.
Stop at Binh Thuy ancient house with orchid garden where "The Lover" was filmed.

Transfer back to Saigon and arrive in the later afternoon.
Overnight in Saigon.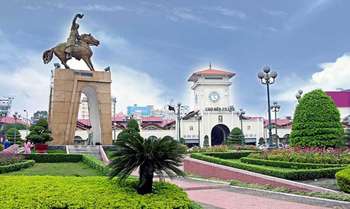 Day 18 : Saigon – Departure (B/-/-)
Free till meet our driver for a transfer to airport for your flight home.

Tour ends.
Private tour price
The prices are quoted on USD and based on per pax (Twin/double sharing - 3 star accommodation)
Valid to 31 December 2018
Group size
1 pax
2 pax
3 - 4 pax
5 - 7 pax
>8 pax
Grand total price/pax
2860
1775
1495
1310
Contact us
Single Supplement
365
Service Included
Accommodation with daily breakfast ( Twin or double)
Private car transfer
Boat trip and cruise
Train tickets
Domestic flights
All entrance fees
English speaking guide
Meals as indicated (B=Breakfast, L=Lunch, D=Dinner)
Vietnam Visa approval letter.
Water on tour
Service charges and Tax
Service Not Included
International flight tickets from/to your country
Travel insurance
Meals not indicated 
Personal Expenses: laundry, drinking, telephone…
Tips and gratuities
Other not mentioned in the tour
Other tours
Create your own trip or see other travel ideas
What clients say about us?