Treasure of Vietnam Uncovered
Treasure of Vietnam Uncovered
Treasure of Vietnam Uncovered - 16 Days
You will discover
Sapa

Ha Noi

Ha Long

Ninh Binh

LAOS

Hue

Hoi An

CAMBODIA

HO CHI MINH

Long Xuyen

Ben Tre
Tour Briefing
Day 01

Saigon (Ho Chi Minh city) arrival (-/-/D)

Day 02

Saigon – Cu Chi – City tour (B/-/-)

Day 03

Saigon – Ben Tre – Cai Lay (B/L/D)

Day 04

Cai Lay – Sa Dec – Long Xuyen (B/L/-)

Day 05

Long Xuyen – Saigon (B/L/-)

Day 06

Saigon – Fly to Danang – Hoian ancient town city tour (B/-/-)

Day 07

Hoian Authentic Discovery (B/L/-)

Day 08

Hoian – Hue (B/-/-)

Day 09

Hue authentic discover – Fly to Hanoi (B/L/-)

Day 10

Hanoi full day city tour – Night Train to Lao Cai (B/-/-)

Day 11

Lao Cai – Sapa – Cat Cat – Y Linh Ho – Lao Chai Ta Van trekking (B/L/-)

Day 12

Sapa –trekking Ma Tra – Ta Phin village – night train to Hanoi (B/L/-)

Day 13

Hanoi – arrival – Ninh Binh – Van Long nature reserve (B/L/D)

Day 14

Van Long – Halong (B/L/D)

Day 15

Halong – Hanoi (B/L/-)

Day 16

Hanoi – departure (B/-/-)
You will be interested in:
Visit Mekong delta river with endless rice fields and variety of rivers.
Floating markets and crafts villages
Discover the ethic and the nature beauty
Experience homestay in the local village
Trekking in Sapa valley.
Boat trip among the rice field and limestone mountain
Biking in the idyllic landscapes
Activities and overnight on a cruise in the middle of Bai Tu Long Bay.
Detail Program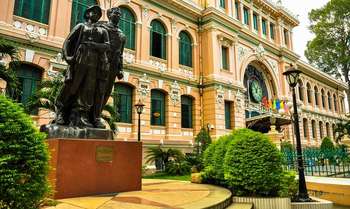 Day 01 : Saigon (Ho Chi Minh city) arrival (-/-/D)
Authentik Travel's tour guide and driver welcome you at airport and transfer to the city center.
Enjoy a welcome dinner at a finest restaurant.
Overnight in Saigon.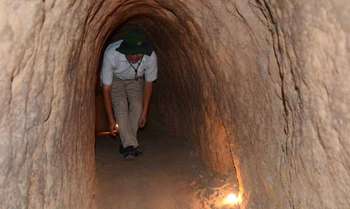 Day 02 : Saigon – Cu Chi – City tour (B/-/-)
Depart to discover one of the most striking places in history of Vietnam War: Cu Chi Tunnel and Ben Duoc temple, just a little far but less touristic. Cu Chi is a real underground city with 250km of network tunnels where Viet Cong conducted the war of resistance against American troops.

All the tunnel networks have been dug by hand with pickaxes and shovels for twenty years without any architects.
Return to Saigon City to visit the Reunification palace (or the war memorials Museum), the Notre Dame Cathedral and the Central Post Office inspired by the Orsay Station in Paris.
Overnight in Saigon.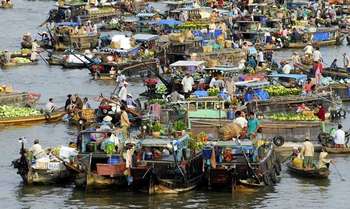 Day 03 : Saigon – Ben Tre – Cai Lay (B/L/D)
Our guide and driver welcome you at your hotel for transfer to Ben Tre – a beautiful region in the Mekong Delta River, famous for making coconut candy.

Arrive in Hung Vuong pier; get on a boat trip on the Ben Tre River to discover the daily local life.
Stop to visit the brick kiln of Mr Tu Lo and discover the craft methods of making bricks.
Then visit the coconut factory. Continue our boat trip on a canal to Nhon Thanh Village. This will be an opportunity to taste the fresh fruits.

Take a bike ride (or Tuk tuk) on a small path through the villages; enjoy watching the coconut ranges, rice fields and vegetable gardens. Lunch is served in the village with Elephant fish ear. A short walk will help you to discover the local life in depth. Followed by a boat ride on the small canal shaded by the wild palm trees.
Disembark Ben Tre for 1 hour transfer to Cai Lay.
We arrive in Cai Lay in the late afternoon. Overnight in homestay. It is time to know the host family and settle your accommodation.
Take part in making Banh Xeo Nam Bo (traditional cave in the region) with the host.

Dinner and overnight in Cai Lay.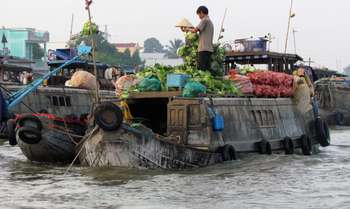 Day 04 : Cai Lay – Sa Dec – Long Xuyen (B/L/-)
Breakfast at homestay and enjoy a bike ride (1-1.5 hours) on the path from Dong Hoa to Tam Binh.

Passing the durian gardens, Sapota gardens, and Longan gardens. Encounter the local people then visit the local village market. Return to home stay for refreshment.
(Extension: 1 hour walking along the trail with local. Biking to Ngu Hiep Island where the Alluvium of Mekong River formed fertile garden. These are unusual excursions in a luxuriant and authentic place.

For those who could not ride a bike, it is possible to ask our tour guide for motorbike and to ride pillion.)
Transfer to Long Xuyen via Sa Dec where we could visit Kien An Cung pagoda, visit the Huynh Thuy Le house in the novel by Marguerite Duras " L'Amant – the Lover", Discover the local market in Sa Dec which is rich in fruits, vegetable, and fishes.
Continue to Long Xuyen, visit Cao Dai temple on route and a crocodile farm.

Overnight at Hotel in Long Xuyen.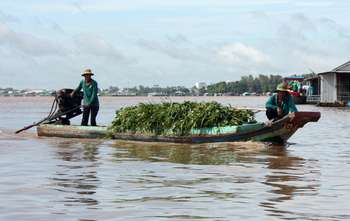 Day 05 : Long Xuyen – Saigon (B/L/-)
In the morning, we will transfer to visit the floating market and floating village in Long Xuyen which are animated and authentic on a small Mekong River.
We discover the daily activities of people living by the river.

Enjoy a boat trip to Cu Lao Ong Ho where there is a small museum about our president Ton Duc Thang.
Take a bike ride on the island and enjoy the beauty of peaceful landscapes.

Road back to Saigon, check in hotel.
Overnight in Saigon.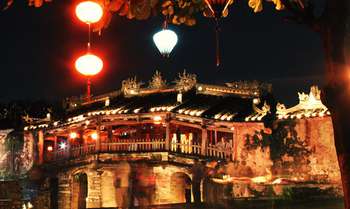 Day 06 : Saigon – Fly to Danang – Hoian ancient town city tour (B/-/-)
Transfer to airport for flight to Danang, pick up and transfer to Hoian ancient town.

Enjoy a city tour in Hoian ancient town which listed in Heritage of Human. A real treasure need to be discovered: Hoian Museum, Japanese bridge, China Town, Quan Thang ancient house, the local market and the old busy port in the 15 century for the international boat and junks from China, Netherlands, Japan, and Poland...

Finally, visit silk factory (optional) of Thang Loi known as a good address in Hoian to have tailor made silk clothes.
Embark on a small boat in Hoian town then depart to Thu Bon River which was very busy exchange place and there were a lot of international ships in the 15 century. The boat trip will take you along the river to Cua Dai sea gate. This is a good chance for you to appreciate the landscapes of peaceful village by the river bank and admire the fishermen's activities on the river. Enjoy the sunset in the late afternoon from April to November.

Overnight at hotel in Hoian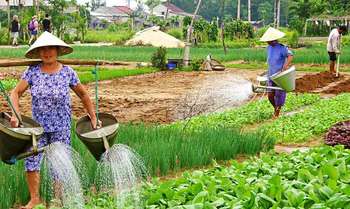 Day 07 : Hoian Authentic Discovery (B/L/-)
Depart from your hotel in the Hoian town either by bike or by boat to the Kim Bong Village by the Thu Bon River.

Start a discovery to Kim Bong. This village has been long known for its wood carving.
Walking to understand their daily life and visit carpenter workshop to admire their talent. It is possible to buy some wood products for your souvenirs.
After that, you can enjoy bike ride (optional) or motorbike taxi (if you could not ride a bike) 5km from Kim Bong to Tra Nhieu. This is a real immersion in the countryside in the central of Vietnam.
The trip will allow you some unprecedented meetings: Ms Duoc with the mats weaving, Mr Kha with the bamboo sampan basket making and Mr Huynh Ri craftsman shipyard.
Arrive in Tra Nhieu, put you bike on the boat trip on the Thu Bon River to the Cam Thanh Village.
Enjoy green tea at Mr Day fisherman family then embark the bamboo sampan basket to join in crab catching activity in the water palm trees forest.
After lunch, enjoy a nice walk in the village to discover how they make nipa for roofs and their daily fishermen's activities.

Return your hotel by 15.30.
Overnight in Hoian.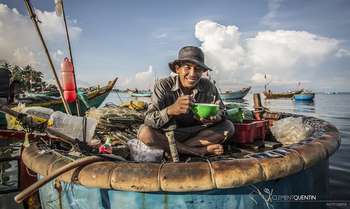 Day 08 : Hoian – Hue (B/-/-)
Depart from Hoian ancient town to Hue. Drive along the coastline. Arrive in Danang, enjoy a walk to My Khe beach where you could enjoy the view to giant Goodness of Mercy statues in the Linh Ung Pagoda.

Continue to Hue on the Mandarin Road via Sea Cloud Pass (Hai Van Pass). Stop on the top of the pass to enjoy the breathtaking view to the ocean and Danang city.
Arrive in Hue – check in your hotel.
In the afternoon, visit Thien Mu Pagoda, one of the oldest pagoda in Hue, dating back 1601. This is a spiritual highlight of the city and well known for its majestic octagon tower and beautiful view to the Perfume River.

Then continue to the most anticipated site in Hue: Hue citadel, the only vestige symbolizes for what was once the imperial city of Vietnam. It is inspired by the fortification of Vauban. The city is composed of three parts: Kinh Thanh (the Capital city) Hoang Thanh (the Imperial city) and Cam Thanh (the Forbidden City). The most beautiful in Hue are concentrated in this area, included: the flag tower, the South gate, the palace of supreme Harmony, the Dynasty temples area and the settlement area.

Return to your hotel.
Overnight in Hue.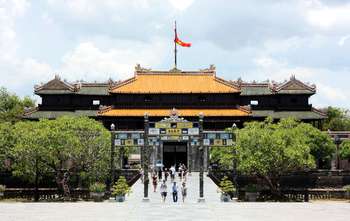 Day 09 : Hue authentic discover – Fly to Hanoi (B/L/-)
Transfer to pier by the Perfume River bank to embark a Royal boat trip to the villages in the East of the city.
This is an opportunity to discover the local life on the both side of this poetic river.

Upon arrival in Tien Nom village, disembark for the bike ride (or option for motorbike) in the countryside through 3 villages: Tien Nom – Thanh Tien – Sinh village. The trip will immerse you into the daily life rhythm in the villages.
In Tien Non Village, meet the peasants working on the fields and vegetable gardens. Then visit a family worship house in the village.
Reach to Thanh Tien village, an artificial paper flower village dated back 400 years. Besides the rural works, they make paper flower for New Year festival to offer their ancestors the best wishes. Visit Mr Hieu's family, one of the well-known artisans in the village to learn how to make paper flower under his instructions.

Keep going to Sinh Village, a cradle of 400 year folklore print in Hue. Meet Mr Phuoc who will explain the techniques of traditional prints. You will find beautiful souvenir in this trip.
Take boat back to the city. And transfer to airport for a short flight to Hanoi.

Upon arrival, meet our tour guide and driver to hotel.
Overnight in Hanoi.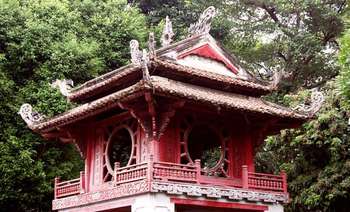 Day 10 : Hanoi full day city tour – Night Train to Lao Cai (B/-/-)
Today, we discover deeply the capital of Vietnam, filled with timeless charms.

Start to visit the Van Mieu (Temple of Literature) the first University of Vietnam built from the 11th century by Emperor Ly Thanh Tong. Continue to visit Chua Ha (Ha Pagoda) known as a sacred place to pray for the luck in love, especially for the future spouse.

After that, transfer to Ethnology Museum (closed every Monday) which offers a deep insight into our Vietnam cultures through traditional costumes, tools, music instruments and real typical traditional house of many minority ethnic groups. Enjoy a special water puppet show in the museum garden.
Lunch is served in Cha Ca Thang Long restaurant (Grilled fish with vermicelli) a Hanoi specialty.

In the afternoon, discover the Ho Chi Minh complex included: Presidential Palace, Ho Chi Minh House on stilts, fish pond.
For those who are interested in visit Ho Chi Minh Mausoleum: it is opened only in the morning and closed every Monday and Friday. We have to queue up sometimes to a couple of hours to go inside the mausoleum.

Transfer to the old quarter to visit the Hoan Kiem lake (Restored Sword Lake) and Ngoc Son temples in the middle of the lake.
In the late afternoon, transfer to Hanoi railway station for a night train to Lao Cai.

Overnight on train. ( Share 4 berth AC Cabin).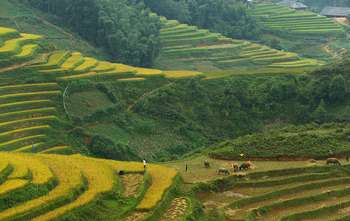 Day 11 : Lao Cai – Sapa – Cat Cat – Y Linh Ho – Lao Chai Ta Van trekking (B/L/-)
Arrive in Lao Cai in the early morning, our local guide will pick you up at the railway station and transfer to Sapa town.

Enjoy breakfast and leave your luggage at your hotel and start a discovery day to the Muong Hoa valley.
Transfer to Cat Cat Village of Black Hmong and enjoy a trekking day. Visit its beautiful waterfall then follow the path to Y Linh Ho village.

Arrive in Y Linh Ho Bridge, stop to relax a little bit then keep going to trek following the buffalo path through the hills. You will have chance to enjoy the splendid view over the rice terrace valley considered the most fantastic of the world.
Lunch will be served on the way.

After lunch take a short break before trekking to the Lao Chai village of the black Hmong and Ta Van village of the Zay people.
At 16.00 meet our driver and transfer to Sapa.

Walking distance: 15km – 6 hours.
Overnight in Sapa.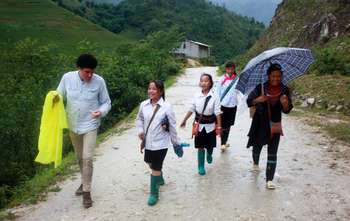 Day 12 : Sapa –trekking Ma Tra – Ta Phin village – night train to Hanoi (B/L/-)
Departure from your accommodation for the hike following the itinerary : Ma Tra – Ta Phin which is less touristic.

The journey will lead you to the superb rice terrace valley, meeting the local people of Black Hmong and Red Zao ethnic group. They were original from south of China. They settled in Vietnam in the 11 century. They live in the high altitude and far away from modern world. This helps them to preserve their traditional, their own language and especially their ancestral way of life.

Make a stop on the way to visit a Hmong family in Ma Tra Village, and a school. After 3 hour trekking, you will reach to Red Zao village to pick up our car for transfer to the town.
Trekking distance: 12km – 3 hours
In the afternoon, free to discover the town till meet our driver for a transfer to Lao Cai Railway station for train to Hanoi.

Overnight on train.( Share 4 berth AC Cabin)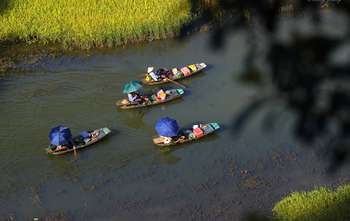 Day 13 : Hanoi – arrival – Ninh Binh – Van Long nature reserve (B/L/D)
Arrive in Hanoi in the early morning, day-transfer from Hanoi to Ninh Binh by a highway, driving through a picturesque countryside of Red River Delta that is painted by rice fields and vegetable fields.

After 1.5 hour driving, you will arrive in Van Long (100km from Hanoi). You will see a typical 3 generation rural family. Welcome to their family by a cup of tea to show their hospitality. The family members, a little shy, are very open to share their idyllic local life in intimate conversation.

Take 15km riding (it is an optional) or you can walk cross the villages. And a journey along the dyke will offer you gorgeous landscapes of rice fields, river and limestone mountains. Several stops for your beautiful photos or encounter with the locals then walk to discover Thung La temple dating back the 11th century.

Meeting Mr Tuong – the temple guardian and enjoy an authentic conversations as well as 20 minutes of drums show.
Later, take a sampan boat trip along the stream and among limestone mountains to discover the beauty of Van Long Nature reserve. And if lucky, you could see white monkeys and egrets on the cliffs.

After boating, visit an embroidery village as well as take part in an embroidery course under the instructions of local craftsman – Mrs Lam. She will explain proudly the technic of her tradition craft. This will be a good opportunity for you to practice on a fabric like a real craftsman.

Return to home stay in the late afternoon.
It is possible to take part in preparing dinner together with the host. Learn how to make traditional spring rolls (Nem)
Overnight homestay in Van Long.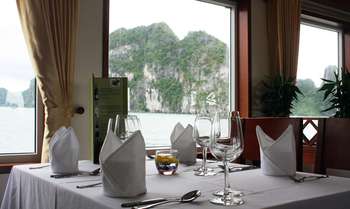 Day 14 : Van Long – Halong (B/L/D)
After breakfast, we will depart for Halong via Nam Dinh and Thai Binh province. These are famous for their rice with large fields as far as your eyes can see, following you along the way.

At 12.00 Arrive in the pier, embarkation in the cruise, welcome by the lovely and friendly staffs. Check in the cruise and enjoy your sumptuous sea food lunch and the enchanting landscapes of limestone islands and tranquil bay.
Take part in cruise's activities, this depends on each cruise; either visit Thien Canh Son cave or kayaking in the bay, sampan boat ride to the fishing village in Vung Vieng. Or simply be lazy in your cabin, on sun desk.

In the late afternoon, do not miss a cooking class. Sunset and a nice dinner await you.
Overnight in Private A/C cabin.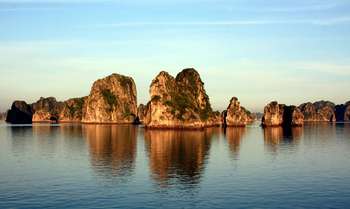 Day 15 : Halong – Hanoi (B/L/-)
7.30am, get up early to enjoy the sunrise or tai chi activity then a breakfast at the cruise restaurant.

Keep cruising among the bay. Check out the cabin at 9.00am and on the way, the lunch is ready to be served before you arrive in the pier.
Take our transfer back to Hanoi. This will be a 3 hour driving so we will stop en route for relaxation or local souvenirs such as: silk products, embroidery ceramics products, stone and wood carving products…

Arrive in Hanoi, check in hotel and relax.
Overnight in Hanoi.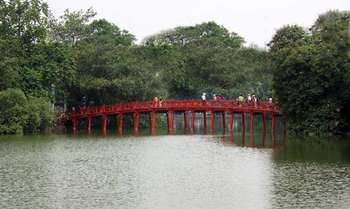 Day 16 : Hanoi – departure (B/-/-)
Free till transfer to airport for flight home or next destinations.

Tour ends.
Private tour price
The prices are quoted on USD and based on per pax (Twin/double sharing - 3 star accommodation)
Valid to 31 December 2018
Group size
1 pax
2 pax
3 - 4 pax
5 - 7 pax
>8 pax
Grand total price/pax
2725
1680
1405
1215
Contact us
Single Supplement
315
Service Included
Accommodations
Meals as indicated (B= Breakfast, L = Lunch, D = Dinner)
English speaking tour  guide
Domestic flights
Private transfer
Student bikes on tour
Boat trip
Cruise on Bai Tu Long Bay
All entrance fees
Water on tour
Vietnam Visa approval letter
Service charges and Tax
Service Not Included
Your international flight from/to your country
Travel insurance
Personal expenses
Tipping and Gratuities.
Other not mentioned in the program
Other tours
Create your own trip or see other travel ideas
What clients say about us?