From Saigon to Luang Prabang
From Saigon to Luang Prabang
From Saigon to Luang Prabang - 14 Days
You will discover
Ha Noi

Ha Long

LAOS

Hoi An

CAMBODIA

HO CHI MINH

Can Tho

Vinh Long
Tour Briefing
Day 01

Saigon arrival (-/-/D)

Day 02

Saigon Cu chi – full day tour (B/-/-)

Day 03

Saigon – Ben Tre – Saigon (B/L/-)

Day 04

Saigon – Fly to Danang – Hoian ancient town (B/-/-)

Day 05

Hoian – Tra Que – Cam Thanh (B/L/-)

Day 06

Hoian – My Son – Transfer to Hue (B/-/-)

Day 07

Hue City tour (B/-/-)

Day 08

Hue – Fly to Hanoi – city tour (B/-/-)

Day 09

Hanoi – Halong (B/L/D).

Day 10

Halong – Hanoi – Fly to Luang Prabang (B/L-)

Day 11

Luang Prabang – City Tour - Khuang Si fall –full day (B/L/-)

Day 12

Luang Prabang – Pak Ou cave – Local village (B/-/-) full day

Day 13

Luang Prabang – Khmu Village – Wat Tham Xieng Maen (B/L/-)

Day 14

Luang Prabang – Departure (B/-/-)
You will be interested in:
Visit Saigon with its attractions.
Mekong Delta River with floating garden, boat trip and orchard.
Hoian ancient town and sunset on Thu Bon River
Enjoy the world heritage in Hue and boat trip along the perfume river.
Visit Hanoi with its famous sites especially the Ho Chi Minh Mausoleum complex, temple of literature and ethnic museum
Beautiful cruise trip on Bai Tu Long Bay with easy and interesting activities.
Discover Luang Prabang with its magnificent sites.
Detail Program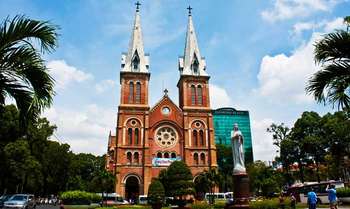 Day 01 : Saigon arrival (-/-/D)
Upon arrival, meet our Authentik Travel's tour guide and transfer to hotel in the downtown.
Get tour briefing and some useful information from our tour guide.
Enjoy our welcome dinner in a finest restaurant in the city center.
Overnight in Saigon.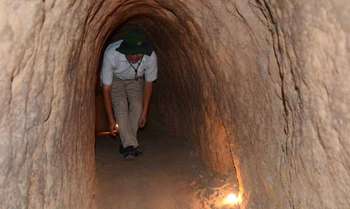 Day 02 : Saigon Cu chi – full day tour (B/-/-)
In the morning, depart to discover one of the most striking places in history of Vietnam War: Cu Chi Tunnel and Ben Duoc temple, just a little far but less touristic.

Cu Chi is a real underground city with 250km of network tunnels where Viet Cong conducted the war of resistance against American troops. All the tunnel networks have been dug by hand with pickaxes and shovels for twenty years without any architects.

Return to Saigon, visit the Reunification palace (or the war memorials Museum), the Notre Dame Cathedral and the Central Post Office inspired by the Orsay Station in Paris.
Then transfer to Cho Lon District to discover its old quarter, the wholesale Binh Tay Market and Quan Am pagoda a colorful pagoda and one of the oldest pagodas in the city, its architecture and decorations have still remained since its construction.
Overnight in Saigon.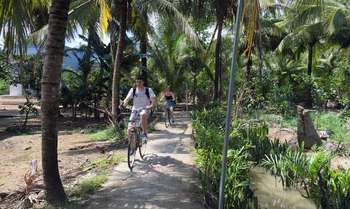 Day 03 : Saigon – Ben Tre – Saigon (B/L/-)
In the morning, our guide and driver meet you at your hotel for transfer to Ben Tre – a beautiful region in the Mekong Delta River, famous for making coconut candy.

Arrive in Hung Vuong pier; get on a boat trip on the Ben Tre River to discover the daily local life.
Stop to visit the brick kiln of Mr Tu Lo and discover the craft methods of making bricks.
Then visit the coconut factory, meeting Mr Vo Van Ba. He is passionate about traditional music; he spent all his life in making and collections of fifty folk instruments, attending a show to appreciate his passion.

Continue our boat trip on a canalto Nhon Thanh Village. This will be an opportunity to taste the fresh fruits.
Take a bike ride (or Tuk tuk) on a small path through the villages; enjoy watching the coconut ranges, rice fields and vegetable gardens. Lunch is served in the village with Elephant fish ear. A short walk will help you to discover the local life in depth. Followed by a boat ride on the small canal shaded by the wild palm trees.

FREE OPTION:
For those who wish to ride bike: ride a bike to Mr Sau Khanh's house to admire his ancient objects collections then continue through the rice fields. Meet the peasants and you could join in their works.
Transfer back to Saigon in the late afternoon.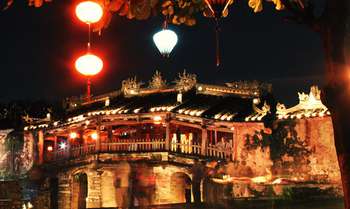 Day 04 : Saigon – Fly to Danang – Hoian ancient town (B/-/-)
After breakfast at your hotel, transfer to airport for your short flight to Danang.

Meet our tour guide and driver in Danang airport for 30km coastline to Hoian ancient town which listed in Heritage of Human. A real treasure need to be discovered: Hoian Museum, Japanese bridge, China Town, Quan Thang ancient house, the local market and the old busy port in the 15 century for the international boat and junks from China, Netherlands, Japan, and Poland...

Finally, visit silk factory (optional) of Thang Loi known as a good address in Hoian to have tailor made silk clothes.
Embark on a small boat in Hoian town then depart to Thu Bon River which was very busy exchange place and there were a lot of international ships in the 15 century. The boat trip will take you along the river to Cua Dai sea gate. This is a good chance for you to appreciate the landscapes of peaceful village by the river bank and admire the fishermen's activities on the river.

Enjoy the sunset in the late afternoon from April to November.
Overnight at Hotel in Hoian.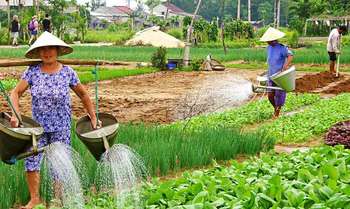 Day 05 : Hoian – Tra Que – Cam Thanh (B/L/-)
At 8.00am take a bike ride (optional) trip to Tra Que farming village. It is famous for its aromatic herbs, mint and basil. Their leaves are smaller than normal ones and special flavor.

Biking through the village and the vegetable fields, you will meet the peasants who work all the season of the year. It is a good opportunity to know the techniques of vegetable gardening.
Continue biking (optional) to Cam Thanh. Along the way the landscapes of fishing farms and water palm trees will accompany you. Arrive in Cam Thanh and embark a small round bamboo sampan basket boat.

Enjoy crab catching activity in the water palm trees forest. This is a relaxing moment after hours of biking.
Lunch is served in family restaurant Mr Day – this is a family fisherman working in tourism.
After lunch, enjoy a nice walk in the village to discover how they make nipa for roofs and their daily fishermen's activities.

Back to your hotel by 15.30.
Overnight in Hoian.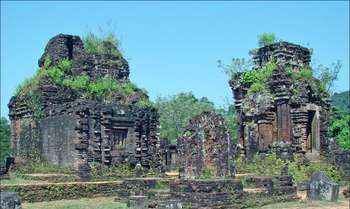 Day 06 : Hoian – My Son – Transfer to Hue (B/-/-)
Breakfast at your hotel and depart to the sacred valley of Champa Kingdom. Located 70km from Hoian Town, My Son was the capital of Champa Kingdom which ruled the central of Vietnam between 4 and 13 century AD.

Recognized the World culture Heritage by Unesco, the site preserves the 70 ruins architecture works of bricks and stones built between 7 and 13 century.
Attending a traditional Champa dancing show.

Return to Hoian at 13.00 for a transfer to Hue. Drive along the coastline. Arrive in Danang, enjoy a walk to My Khe beach where you could enjoy the view to giant Goodness of Mercy statues in the Linh Ung Pagoda. Take photos of fishermen activities by the beach and visit Cham Museum which preserves the most important Cham culture collections in the world.
Continue to Hue on the Mandarin Road via Sea Cloud Pass (Hai Van Pass). Stop on the top of the pass to enjoy the breathtaking view to the ocean and Danang city.

Arrive in Hue – check in your hotel.
Overnight in Hue.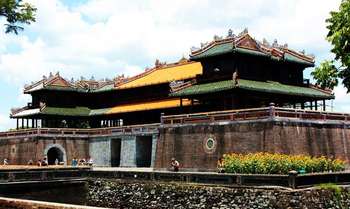 Day 07 : Hue City tour (B/-/-)
At 8.00, transfer upstream of the Perfume river to visit the emperor Minh Mang tomb, an architecture masterpiece that harmoniously highlights the nature and imperial religious works.

After that, we will take boat trip along the Perfume River to Thuy Bieu Village. The boat trip will offer you the picturesque landscapes on the two sides. The peaceful atmosphere is in every corner of the villages.
Then visit a temples dedicated to the village protector, a traditional garden house with hundred year of age. Obviously, stop for great photos and contact with the peasants working in the gardens and vegetable fields should not be missed.

Lunch is served at Mrs Loan in the village of Thuy Bieu.
In the afternoon, visit Thien Mu Pagoda, one of the oldest pagoda in Hue, dating back 1601. This is a spiritual highlight of the city and well known for its majestic octagon tower and beautiful view to the Perfume River.

Then continue to the most anticipated site in Hue: Hue citadel, the only vestige symbolizes for what was once the imperial city of Vietnam. It is inspired by the fortification of Vauban. The city is composed of three parts: Kinh Thanh (the Capital city) Hoang Thanh (the Imperial city) and Cam Thanh (the Forbidden City). The most beautiful in Hue are concentrated in this area, included: the flag tower,the South gate, the palace of supreme Harmony, the Dynasty temples area and the settlement area. During the visit, we will attend a traditional dancing show in the royal theater.

Return to your hotel.
Overnight in Hue.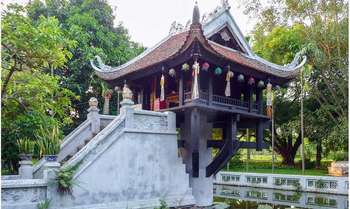 Day 08 : Hue – Fly to Hanoi – city tour (B/-/-)
Transfer to Hue airport for flight to Hanoi.

On arrival, get a pick up to the city center. Leave your luggage at hotel and enjoy a full day city tour.
Today, we discover deeply the capital of Vietnam, filled with timeless charms. Start to visit the Van Mieu (Temple of Literature) the first University of Vietnam built from the 11th century by Emperor Ly Thanh Tong.

And enjoy a walking in the old quarter called 36 streets. The city was built from the 10th century by the villagers by the Red River Delta. You could see the special architectural houses. They are narrow in width and deep in length. You cross to discover some typical streets such as: Ma May, Hang Ma, Hang Dong, Hang Bac and Hang Gai… and tourist sites stop: Dong Xuan market – the biggest market in the northern Vietnam, Bach Ma temple ( white horse temple) and the traditional ancient house at 87 Ma May street.

Overnight in Hanoi.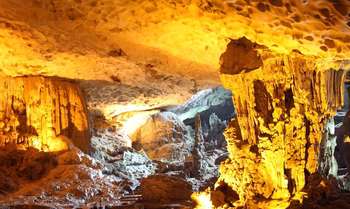 Day 09 : Hanoi – Halong (B/L/D).
At 8.00am, our driver will meet you for a transfer to Halong via Bac Ninh and Sao Do. Extensive rice fields as far as your eyes can see will follow you along the way.

12.00 Embarkation at Hon Gai port, enjoy welcome drink.
13.00 Lunch on boat with seafood while cruising in to the bay through the enchanting landscapes of Bai Tu Long Bay ( Small Dragon Bay)
15.30 Take part in activities according to the boat such as: visit Thien Canh Son cave, do kayaking, bamboo sampan ride to the Vang Vieng fishing village or just simply lazy on boat.
18.00 return to the boat, shower and take a rest.
19.00 enjoy a sumptuous dinner on boat.

Overnight on boat with private cabin (with air conditioner and shower).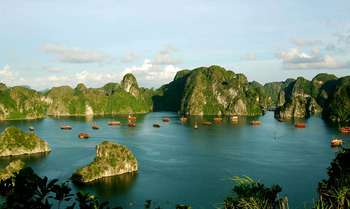 Day 10 : Halong – Hanoi – Fly to Luang Prabang (B/L-)
You are advised to get up early to enjoy the fresh air and sunset in the beautiful scenery of Bai Tu Long
Breakfast on the boat.

8.30 enjoy activities. Either visit the cave or embark a small bamboo sampan to visit Vung Vieng Fishing village, one of the spectacular floating villages in Halong. Encounter the locals and fishermen's farm as well as a floating school (depends on the boat's activity schedule).
9.30 return to the boat and check out the cabin.
10.00 cruise back to Hon Gai port. On the way back, we will enjoy lunch on boat. Last look at the legendary bay where dragons descended.
11.45 Arrive the pier and take a transfer back to Hanoi and directly to airport for a short flight to Luang Prabang.

Upon Luang Prabang airport, our local tour guide and driver will welcome you and transfer to your hotel in the city center. Meals on your own and take a rest.
Overnight in Luang Prabang.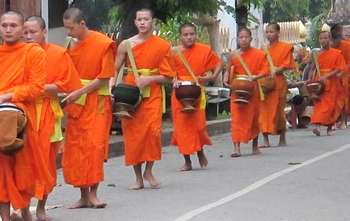 Day 11 : Luang Prabang – City Tour - Khuang Si fall –full day (B/L/-)
After your breakfast at hotel. Meet our tour guide and driver to go to Phousi Mount where you enjoy a great panorama view of the City and the river.

Take a short driver to Vat Xien Thong or the temple of Royal city. This is one of the most important Laos monasteries and still remains a significant monument to the spirit of religion, traditional art and royalty.
The next will be Wat Visoun temple – dating back to 1513, the King Visoun Dynasty. This is the oldest temple in Luang Prabang and was once the home to Luang Prabang Buddhas. Wat Visoun temple is with an unusual structure which represents the earliest Laos style.

Followed by Wat Mai, a beautiful temple built in the 18 century, located by the Royal palace. It is the biggest temples with beautiful decoration in Luang Prabang.
Enjoy a driving through rice fields and beautiful small village. Make some stop to discover their daily life before reaching Khuang Si fall, a gorgeous turquoise waterfall. Refresh and swim in the clear water.

Back to city and the rest of day is free at your leisure.
Overnight at Hotel in Luang Prabang.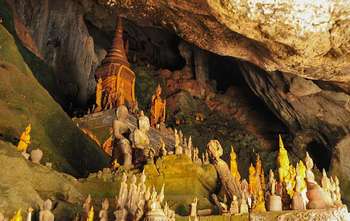 Day 12 : Luang Prabang – Pak Ou cave – Local village (B/-/-) full day
Breakfast at your hotel then visit a local market in the town. Discover the daily life. (Recommend early visit in the morning).

Transfer to the pier. Embark a boat and enjoy a trip upstream along the Mekong River. Discover the numerous the Buddha images in Pak Ou caves such as Pak Ou cave (the mouth of the Oo River), Tham Ting cave ( Lower cave) and Tham Theung ( Upper cave). They are on the right side and overlooking to the Mekong River.

Take a short distance from the caves to a village of Ban Xang Hai. Encounter the locals and learn how to make LauLao (Laos whisky) and LauHai (Laos wine). Return to the city, en route we make a stop at other villages: Ban Xang Khong and Ban Xieng Lek well known for handmade of Jute Sar paper.

Back to Hotel and relax.
Overnight in Luang Prabang.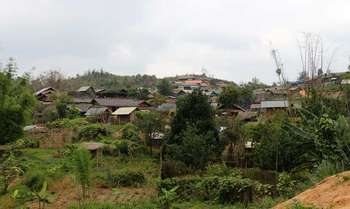 Day 13 : Luang Prabang – Khmu Village – Wat Tham Xieng Maen (B/L/-)
In this morning, meet up our tour guide at your hotel and you will across the Mekong river by a local ferry towards Khmu village. Make a short visit to Ban Chan pottery village. It is a rare chance to try your hand on creating beautiful pots from clay.

Along the way, you will pass through some rustic villages, encounter the local people, and see the children playing together or farmers doing their work on the fields. Visit Ban Boum Xieng to observe the ethnic tradition and daily life. Continue driving to a Khmu family and enjoy lunch with them.

In the afternoon, drive back to the Mekong River and discover a nice decoration of a less visited Wat Long Khun temple. From here, take a short transfer to Wat Tham Xieng Maen located in a limestone cave and visit its Buddha images.

The last highlight of the day is Wat Chom phet - This is an excellent spot for a panoramic view of the area as well as an excellent photo opportunity for a sunset photo hunter.
Back to hotel and overnight in Luang Prabang.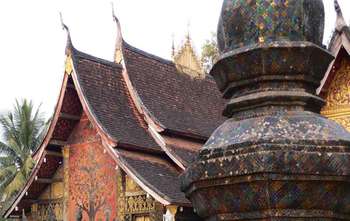 Day 14 : Luang Prabang – Departure (B/-/-)
Free till meet our driver to transfer to airport for your flight home or next destination.

Tour ends.
Service Included
Accommodation with daily breakfast
Private car transfer
English speaking tour guides
All entrance fees
Cruise trip and boat trip
All domestic flights
International flight from Hanoi to Luang Prabang
Meals as indicated (B=Breakfast, L = Lunch, D = Dinner)
Water on tour
Vietnam visa approval letter.
Service Not Included
International flight from/to your country
Travel insurance
Personal expenses
Tipping and Gratuities
Other not mentioned in the program
Vietnam Visa stamp fee at airport ( 25 USD/pp)
Laos Visa on arrival ( 35 USD)
Personal expenses such as telephone, laundry, drink…
Other tours
Create your own trip or see other travel ideas
What clients say about us?