Recruitment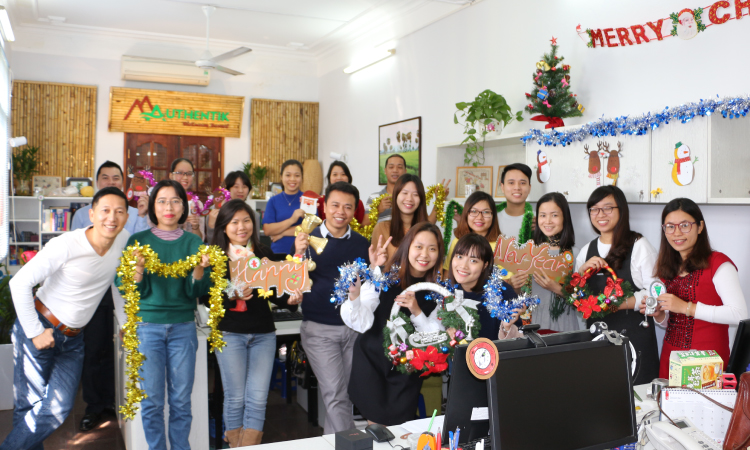 Having a heart set in tourism and traveling?
Seeking for a professional but flexible working environment?
Welcome to our Authentik Travel vietnam, where you find your dreams come true
• Our mission is to delivery customers needs & want at the highest level of satisfaction
• To work with us is to engage in a motivated, dynamic, and determined team.
• If you wish to reveal your talents, to participate in the development of a young and dynamic company, to feel happy every day at work, kindly send CV to the following contact:
Human Resource Manager
Mrs. NGUYEN Phuong Diep
Tel: 024 62 90 55 99
Email: phuongdiep@authentikvietnam.com
Current Vacancies at Authentik Vietnam
SALES TOUR ONLINE - ENGLISH SPEAKING
JOB DESCRIPTION
• Receive and analyze customer requests from Manager.
• Communicate with English speaking clients to consult their holiday to Vietnam, Cambodia, Laos, Myanmar.
• Create private tour program and make quotation according to clients' requests.
• Follow up dealing process, communicate and revise program to meet clients' desires.
• Take care of clients before, during and after the trip.
• Report to Sales Manager on request.
REQUIREMENT
• A University degree specializing in tourism or English graduate
• Proficient in English (Listening, speaking, reading and writing)
• Ability to understand, convince and negotiate with clients / partners
• Fimiliar with office applications (word, excel, outlook & …)
• Individual and group work spirit
• Having passion in travelling can be an advantages
• Interested in learning, dynamic, enthusiastic and responsible at work
• Can start as soon as possible
BENEFIT
• Attractive Salary & Bonus
• Appealing remuneration for public holidays (30/04, 02/09, New Year, Lunar Year's 13th month Salary)
• Other rights includes Lunch, Mobilephone, presents for birthday and special occasion of 20/10, 8/3, 1/6, Mid-Autumn Festival for children, wedding, etc.
• Amazing work place with inspiring appentices.
Thank you for your reading!
Please send CV to phuongdiep@authentikvietnam.com
WHAT WE CAN OFFER
- Salary: 25 - 35 million VND
- Attractive salary & bonus, social insurance, healthcare insurance, unemployed insurance, meal allowance 40k/meal
- 15 days of annual leave, birthday celebration, happy hours, company trip, team building, end year party
- Young, dynamic and professional working environment
- Company offer training courses to enhance technical skills
JOB DESCRIPTION
- Build & develop new projects according to request from manager
- Support in maintaining company Website
- Further job requirements shall be discussed in the interview
JOB REQUIREMENTS
- Candidate must possess at least a Bachelor's Degree in Computer Science/Information Technology or related disciplines
- More than 1 year of experience in Yii 2.0 framework development
- Solid foundation of PHP development
- Proficient in coding Yii 2.0
- Good command of HTML, CSS, JavaScript (Jquery, Ajax), Bootstrap, JSON
- Experience with MySQL
- Independent working & work well with team
*PRIOTIRIZE
- Candidates have experience with MongoDB & Redis
Thank you for your concern!
Please send CV to phuongdiep@authentikvietnam.com
Every day, we work together to place our clients in to the center of all our actions with only one credo:
"Our performance is for your perfect customized trips".