Vietnam and Cambodia by water way
Vietnam and Cambodia by water way
Vietnam and Cambodia by water way - 15 Days
You will discover
Sapa

Ha Noi

Ha Long

LAOS

Hoi An

CAMBODIA

P.nompenh

Chau Doc

HO CHI MINH

Can Tho

Vinh Long
Tour Briefing
Day 01

Hanoi arrival – walking tour ( 2km) (D)

Day 02

Hanoi – City Tour – Train to Sapa (B/L/)

Day 03

Sapa – Cat Cat – Y Linh Ho – Lao Chai – Ta Van (B/L/-)

Day 04

Sapa Discovery – Night train to Hanoi (B/-/-)

Day 05

Hanoi – Halong Bay (B/L/D)

Day 06

Halong – Hanoi – fly to Hoian (B/L/-)

Day 08

Hoian – Danang – fly to Ho Chi Minh city ( Saigon) (B/-/-)

Day 09

Saigon – Cai Be – Can Tho (B/L/-)

Day 10

Can Tho – Chau Doc (B/-/-)

Day 11

Chau Doc – High speed boat to Phnom Penh (B/-/-)

Day 12

Phnom Penh city tour (B/-/-)

Day 13

Phnom Penh – Fly to Siem Reap – Rolous group – Banteay Srei (B/-/-)

Day 14

Siem Reap – Angkor Thom – Taprohm – Angkor Wat (B/L/-)

Day 15

Siem Reap – floating Village – Departure (B/-/-)
You will be interested in:
Walking in the old quarter of the Vietnam capital
Trekking in the ethnic villages in valley of Sapa.
Overnight and discover the amazing landscape of the Halong Bay
Uncover the lifestyle in Hoian as well as walk in the ancient town to admire the nice streets with traditional typical houses.
The Reunification palace (or the war memorials Museum), the Notre Dame Cathedral and the Central Post Office in Saigon
Mekong Delta River discovery with its floating market and traditional handicraft villages.
Visit the historical site in Phnom Penh as well as Silver Pagoda and national museum
Amazing Angkor temples complex in Siem Reap.
Detail Program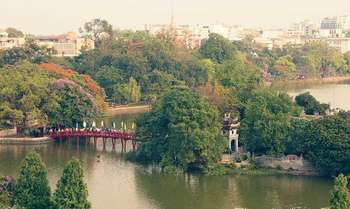 Day 01 : Hanoi arrival – walking tour ( 2km) (D)
Our Authentik Travel's tour guide and driver will welcome you at airport and transfer to Hotel in the city center. Check in hotel (after 12.00 noon) or leaving your luggage at hotel and enjoy a walking in theold quarter called 36 streets.

The city was built from the 10th century by the villagers by the Red River Delta. You could see the special architectural houses. They are narrow in width and deep in length. You cross to discover some typical streets such as: Ma May, Hang Ma, Hang Dong, Hang Bac and Hang Gai… and tourist sites stop: Dong Xuan market – the biggest market in the northern Vietnam, Bach Ma temple ( white horse temple) and the traditional ancient house at 87 Ma May street.

Enjoy our welcome dinner at a finest local restaurant and overnight in Hanoi.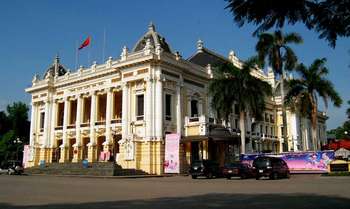 Day 02 : Hanoi – City Tour – Train to Sapa (B/L/)
Today, we discover deeply the capital of Vietnam, filled with timeless charms.

Start to visit the Van Mieu (Temple of Literature) the first University of Vietnam built from the 11th century by Emperor Ly Thanh Tong. Continue to visit Chua Ha (Ha Pagoda) known as a sacred place to pray for the luck in love, especially for the future spouse.
After that, transfer to Ethnology Museum (closed every Monday) which offers a deep insight into our Vietnam cultures through traditional costumes, tools, music instruments and real typical traditional house of many minority ethnic groups. Enjoy a special water puppet show in the museum garden.

Lunch is served in Cha Ca Thang Long restaurant (Grilled fish with vermicelli) a Hanoi specialty.
In the afternoon, discover the Ho Chi Minh complex included: Presidential Palace, Ho Chi Minh House on stilts, fish pond.
For those who are interested in visit Ho Chi Minh Mausoleum: it is opened only in the morning and closed every Monday and Friday. We have to queue up sometimes to a couple of hours to go inside the mausoleum.

Transfer to the old quarter to visit the Hoan Kiem lake ( Restored Sword Lake) and Ngoc Son temples in the middle of the lake. In the late afternoon, take a night train to Sapa.
Overnight on train (Share 4 berth AC cabin).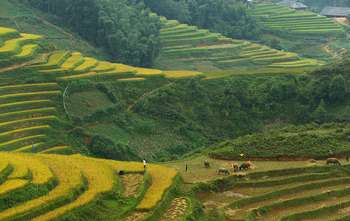 Day 03 : Sapa – Cat Cat – Y Linh Ho – Lao Chai – Ta Van (B/L/-)
Arrive in Lao Cai in the early morning, our local guide will pick you up at the railway station and transfer to Sapa town. Enjoy breakfast and leave your luggage at your hotel and start a discovery day to the Muong Hoa valley.

Transfer to Cat Cat Village of Black Hmong and enjoy a trekking day. Visit its beautiful waterfall then follow the path to Y Linh Ho village.
Arrive in Y Linh Ho Bridge, stop to relax a little bit then keep going to trek following the buffalo path through the hills. You will have chance to enjoy the splendid view over the rice terrace valley considered the most fantastic of the world.

Lunch will be served on the way.
After lunch take a short break before trekking to the Lao Chai village of the black Hmong and Ta Van village of the Zay peole.
At 16.00 meet our driver and transfer to Sapa.

Walking distance: 15km – 6 hours.
Overnight in Sapa.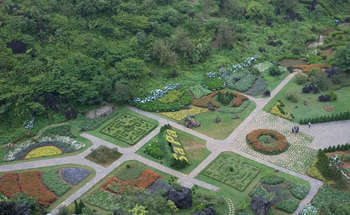 Day 04 : Sapa Discovery – Night train to Hanoi (B/-/-)
After breakfast at your hotel, our guide will meet you for a visit to Silver Water fall. This is one of the highest and most beautiful falls in Sapa. Transfer further 3 km to reach Tram Ton Pass – 2000m from the sea level. You will feel the drop of temperature but the views are so gorgeous.

It time for you to relax and take photos before driving back to Sapa town for your own lunch, relax then checkout the hotel before exploring the Dragon Jaw Mountain. Walking up to the mountain is the way to enjoy the beauty of the landscapes and alot of flowers on the way. From the top of the Dragon Jaw Mountain, you will able to view all Sapa town with its charm and the Peak of Fansipan from distance.

Dinner is on your own then transfer to Lao Cai railway station for night train to Hanoi.
Overnight on train ( share 4 berth AC cabin)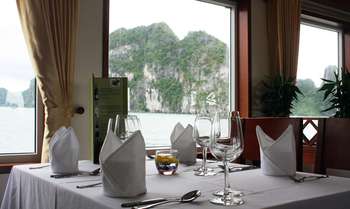 Day 05 : Hanoi – Halong Bay (B/L/D)
Arrival in Hanoi in the early morning, check in a hotel by the railway station for your refreshment and breakfast.

At 8.00am, our driver will meet you for a transfer to Halong via Bac Ninh and Sao Do. Extensive rice fields as far as your eyes can see will follow you along the way.
12.00 Embarkation at Hon Gai port, enjoy welcome drink.
13.00 Lunch on boat with seafood while cruising in to the bay through the enchanting landscapes of Bai Tu Long Bay ( Small Dragon Bay)
15.30 Take part in activities according to the boat such as: visit Thien Canh Son cave, do kayaking, bamboo sampan ride to the Vang Vieng fishing village or just simply lazy on boat.
18.00 return to the boat, shower and take a rest.
19.00 enjoy a sumptuous dinner on boat.

Overnight on boat with private cabin (with air conditioner and shower).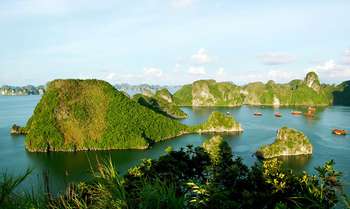 Day 06 : Halong – Hanoi – fly to Hoian (B/L/-)
You are advised to get up early to enjoy the fresh air and sunrise in the beautiful scenery of Bai Tu Long
Breakfast on the boat.

8.30 enjoy activities. Either visit the cave or embark a small bamboo sampan to visit Vung Vieng Fishing village, one of the spectacular floating villages in Halong. Encounter the locals and fishermen's farm as well as a floating school (depends on the boat's activity schedule)
9.30 return to the boat and check out the cabin.
10.00 cruise back to Hon Gai port. On the way back, we will enjoy lunch on boat. Last look at the legendary bay where dragons descended.
11.45 Arrive the pier and take a transfer back to Hanoi and directly to airport for a short flight to Danang city.

On arrival, pick up and transfer to Hoian ancient town.
Overnight in Hoian.
Note: Cruise's activities order will be depend on each cruises and tide. It is adjustable.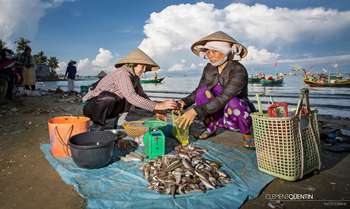 Day 07 : Hoian Tour (B/-/-)
After breakfast at your hotel. Enjoy a city tour in Hoian ancient town which listed in Heritage of Human.

A real treasure need to be discovered: Hoian Museum, Japanese bridge, China Town, Quan Thang ancient house, the local market and the old busy port in the 15 century for the international boat and junks from China, Netherlands, Japan, and Poland...
Finally, visit silk factory (optional) of Thang Loi known as a good address in Hoian to have tailor made silk clothes.

Embark on a small boat in Hoian town then depart to Thu Bon River which was very busy exchange place and there were a lot of international ships in the 15 century. The boat trip will take you along the river to Cua Dai sea gate. This is a good chance for you to appreciate the landscapes of peaceful village by the river bank and admire the fishermen's activities on the river.

Enjoy the sunset in the late afternoon from April to November.
Overnight at hotel in Hoian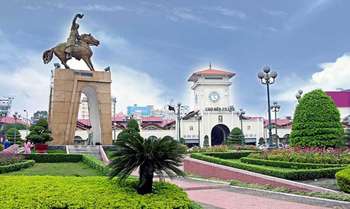 Day 08 : Hoian – Danang – fly to Ho Chi Minh city ( Saigon) (B/-/-)
Transfer to Danang airport and take a morning flight to Saigon.

On arrival, Meet our tour guide and driver and transfer to your hotel. Leave you luggage and enjoy a full day city tour.
Visit the Reunification palace (or the war memorials Museum), the Notre Dame Cathedral and the Central Post Office inspired by the Orsay Station in Paris.

Then transfer to Cho Lon District to discover its old quarter, the wholesale Binh Tay Market and Quan Am pagoda a colorful pagoda and one of the oldest pagodas in the city, its architecture and decorations have still remained since its construction.
Overnight in Saigon.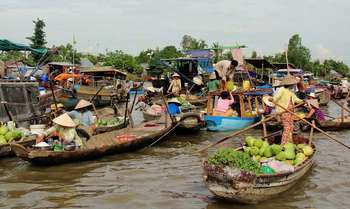 Day 09 : Saigon – Cai Be – Can Tho (B/L/-)
Pick up from your hotel and transfer to Cai Be ( 120km – 2.5 hour driving) visit a Cao Dai temple on route.

Upon arrival, embark a boat trip on the branch of Mekong River to Vinh Long. Experience the rhythm of life on the legendary Mekong River by a visit to Cai Be floating market and the canals with orchards.
Visit crafts workshops of rice popcorn, coconut caramel and rice cake…

Biking or walking on the village paths to discover the ancient and beautiful Phu Chau pagoda where the serenity reigns and meet the local people.
Enjoy a lunch in open air restaurant where you could taste a famous local specialty: The Elephant Fish ear, tasting great fruits, rowing a small rowboat in the canals which are shaded by the fruit trees.

Continue our boat trip to Vinh Long, meet our driver at pier for a transfer to Can Tho. Arrive in Can Tho in the later afternoon. Check in hotel and relax.
Free time on your own to discover the city by Mekong River.
Overnight in hotel in Can Tho.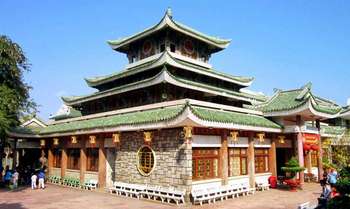 Day 10 : Can Tho – Chau Doc (B/-/-)
Breakfast at hotel and transfer to the pier for a boat trip to visit Cai Rang floating market, a largest and lively marking in Mekong Delta.

There are so colorful and many smells in the bubbling atmosphere where hundreds of sampans are filled with goods such as rice, fruits, and craft products …all is shown to sell from the early morning.

We leave the market and continue the boat trip through the canals and visit a fruit gardens (or replace the garden by the nursery field by the river)
Back to An Binh Market which is full of fishes, fruits and vegetables.
Stop at Binh Thuy ancient house with orchid garden where "The Lover" was filmed.

Transfer to Chau Doc.
On arrival, check in hotel and enjoy a walking the town as well as a visit to Sam mountain with colorful temples and Pagodas: Xu Lady Pagoda, Thoai Ngoc Hau temple, Tay An pagoda.

Enjoy the sunset over the border between Vietnam and Cambodia.
Overnight in Chau Doc.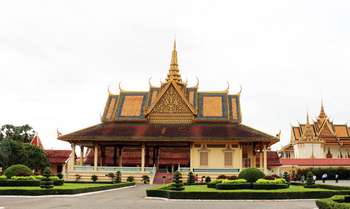 Day 11 : Chau Doc – High speed boat to Phnom Penh (B/-/-)
In the morning, transfer to pier to take high speed boat at 7.00am to PhnomPenh

Upon arrival, local tour guide will pick you up to your hotel in the city center. Check in your hotel and enjoy a briefing tour as well as some first information about this beautiful region.
Start to visit the impressive colorful Khmer-style royal palace complex build in 1866 by the Predecessors of King Norodom. Nearby is Silver pagoda (the emerald Buddha temple), where contain plenty of Buddha Statues decorated and made by gold, diamond, gemstones and silver. Then visit the National Museum.

Overnight in Phnom Penh.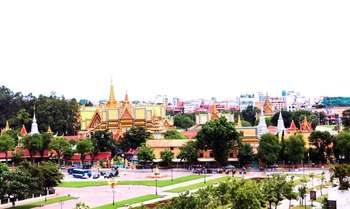 Day 12 : Phnom Penh city tour (B/-/-)
Breakfast at hotel, Spend a full day to learn about the Khmer rouge in the past and Cambodia in the present.
In the morning, Followed by a visit to Choeung Ek museum or Killing field where about 17 000 innocent Cambodian people (during1975 and 1978) including men, women, children and infants detained and tortured at S-21 prison were transported for the extermination.

We continue to Tuol Sleng prison now is Genocide Museum, the most secret part of the Khmer Rouge regime. It's also called S-21 (abbreviated for Security Office 21), a Khmer Rouge's premier security camp, specifically designed for the interrogation and extermination of anti-Angkor elements.

Surprised to know that S 21 use to be a high school before becoming a terrible place in the world during Khmer Rouge regime.
Back to the city to discover the local daily life at Russian market, enjoy the bustling daily activities of the locals.
Back to your hotels.
Overnight in Phnom Penh.
Note: Please consider a visit killing field and S21 prison if you have small children in the group. We will offer other suitable alternative programs such as Koh Dach Island, Tamao wildlife rescue center…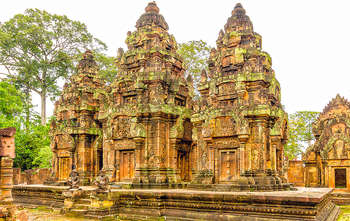 Day 13 : Phnom Penh – Fly to Siem Reap – Rolous group – Banteay Srei (B/-/-)
Tranfer to airport for flight to Siem Reap. Upon arrival, get a pick up and transfer to hotel. Check in your hotel and enjoy a briefing tour as well as some first information about this beautiful region.

Enjoy a trip to Rolous Group. This is the ancient capital of King Indravarman I during 877 – 889, also known as the birth place of the classical Khmer art and Architecture. Among the Roluos Group temples there are some of the earliest permanent structures built by Khmer, dating from the late 9th century. Some were totally built with bricks, others built with laterite or sandstone.

In the afternoon, transfer to visit Bantey Srei temple known as the Women's citadel and a cradle of the Angkor's finest stone carving.
The temple is the masterpiece built with red sandstone.
Back to Siem Reap and relax.
Overnight in Siem Reap.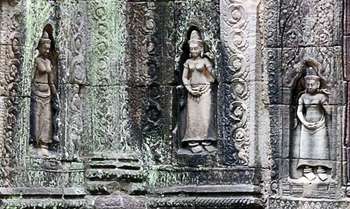 Day 14 : Siem Reap – Angkor Thom – Taprohm – Angkor Wat (B/L/-)
After your breakfast at your hotel, meet our tour guide and enjoy a full day to discover this mysterious Angkor complex temples.

Starting from the South Gate of Angkor Thom known as Big Angkor, it was the last capital of Angkor Empire surrounded by wall and moat.
Bayon temple is in the heart of Angkor Thom. It is a special architecture with 54 towers and 4 smiling face statues. All impressed by the bas-relief.

Our guide will lead you to the Terrace of Elephant. This is a terrace wall adorned with carved elephants Followed by Baphuon – a huge temple mountain and Terrace of the Leper King – a double wall carved with many mythological beings.
Travel out of Angkor Thom, through the jungle will lead us to sacred Ta Prohm ruin temple which is a great combination between human genius and natural beauty. Admire giant trees which have grown here for centuries. This is also the place where the "Tomb Raider" was filmed.

Lunch will be served in the restaurant by the Srah Srang Lake.
In the afternoon, discover Angkor Wat temple, the largest Khmer temple and finest example of architecture and Angkorian art.
Enjoy the sunset from the Phnom Bakeng hill before return your hotel for your own dinner and relaxation.
Overnight in Siem Reap.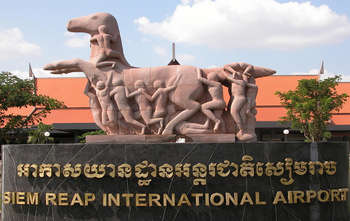 Day 15 : Siem Reap – floating Village – Departure (B/-/-)
Transfer to visit floating village in the Tonle Sap Lake, located 10km from the city center. On arrival, take a boat ride on the largest fresh water lake in the Southeast Asia known as one of the world's most varied and productive ecosystems the region has always been of central importance for Cambodia's food provision.

Discover the beauty of the water landscape and local life on the lake, visit a floating village and enjoy the local encounter.
Back to city, check out and transfer to airport for your flight to next destinations or flight home.

Tour ends.
Service Included
Accommodation with daily breakfast
Professional English Speaking guides
All private transfers
Vietnam visa approval letter.
Boat trips, Halong Bay cruise.
Train
Domestic flights
All entrance fees
Meals as indicated (B=Breakfast, L = Lunch, D = Dinner)
Water on tour.
Service Not Included
International flights from/to your country
Meals not mentioned in the program
Early check in and late check out
Travel insurance
Tipping and gratuities
Vietnam Visa stamp fee at airport ( 25 USD/pp)
Cambodia Visa on arrival ( 30 USD)
Personal expenses such as telephone, laundry, drink…
Other tours
Create your own trip or see other travel ideas
What clients say about us?