Vietnam Ethnic Revealed
Vietnam Ethnic Revealed - 19 Days
You will discover
Dong Van

Ha Giang

Bac Ha

Cao Bang

Sapa

Ba Be

Dien Bien

Mu Cang Chai

Nghia Lo

Ha Noi

LAOS

CAMBODIA
Tour Briefing
Day 02

Hanoi full day city tour (B/L/-)

Day 03

Hanoi – Nghia Lo (B/L/D)

Day 04

Muong Lo(Nghia Lo) – Tu Le – Mu Cang Chai (B/L/D)

Day 05

Mu Cang Chai – Than Uyen – Tuan Giao – Dien Bien (B/L/-)

Day 06

Dien Bien Phu – Muong Lay – Lai Chau (B/L/D)

Day 07

Lai Chau – Na Tam – Sapa (B/L/-)

Day 08

Sapa – Bac Ha (B/L/-)

Day 09

Bac Ha – Sin Man (B/L/D)

Day 10

Sin Man – Ha Giang (B/L/D)

Day 11

Ha Giang – Dong Van (B/L/D)

Day 12

Dong Van – Bao Lac (B/L/D)

Day 13

Bao Lac – Cao Bang (B/L/D)

Day 14

Cao Bang – Ban Gioc Waterfall – Phuc Sen village (B/L/D)

Day 15

Phuc Sen – Cao Bang – Ba Be (B/L/D)

Day 16

Ba Be full Day tour (B/L/D)

Day 17

Ba Be – Thac Ba (B/L/D)

Day 18

Thac Ba – Hanoi (B/L/-)

Day 19

Hanoi – Departure (B/-/-)
You will be interested in:
Discover the minory ethnic groups with their customs and daily life.
Marvelous rice terrace and beautiful road with great views.
Ethnic villages with rural idyllic landscapes.
Splendid panorama in the valley of rice terrace from Khau Pha pass
Magnificient 20km road in Ban Chat reservoir
Discover Dien Bien Phu battle field
Beautiful rural tranquil landscape in Na Tam
Enjoy gorgeous and grandiose landscape from the from O Quy Ho Pass, the longest and highest pass in Vietnam.
Grandiose Ma Pi Leng Pass.
Splendid panorama in Me - Lup - Tha village.
Magnificient Ban Gioc waterfall and amazing Nguom Ngao cave
Boat trip in Ba Be Lake and along the Nang River with Puong ( Bats cave)
Short easy bike to Hua Ma and Silver Waterfall in Ba Be.
Discover the traditional local dishes and specialties.
Home Stay to enjoy the local lifestyle
Detail Program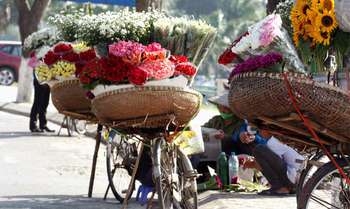 Day 01 : Hanoi arrival (D)
Our Authentik Travel's tour guide and driver will welcome you at airport and transfer to Hotel in the city center.
Our tour guide will give some first briefing information about our country and enjoy a welcome dinner in a finest local restaurant.

Overnight in Hanoi.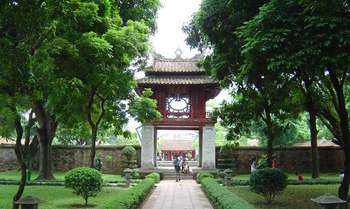 Day 02 : Hanoi full day city tour (B/L/-)
Today, we discover deeply the capital of Vietnam, filled with timeless charms.

Start to visit the Van Mieu (Temple of Literature) the first University of Vietnam built from the 11th century by Emperor Ly Thanh Tong. Continue to visit Chua Ha (Ha Pagoda) known as a sacred place to pray for the luck in love, especially for the future spouse.
After that, transfer to Ethnology Museum (closed every Monday) which offers a deep insight into our Vietnam cultures through traditional costumes, tools, music instruments and real typical traditional house of many minority ethnic groups. Enjoy a special water puppet show in the museum garden.

Lunch is served in Cha Ca Thang Long restaurant (Grilled fish with vermicelli) a Hanoi specialty.
In the afternoon, discover the Ho Chi Minh complex included: Presidential Palace, Ho Chi Minh House on stilts, fish pond.
For those who are interested in visit Ho Chi Minh Mausoleum: it is opened only in the morning and closed every Monday and Friday. We have to queue up sometimes to a couple of hours to go inside the mausoleum.
Transfer to the old quarter to visit the Hoan Kiem lake (Restored Sword Lake) and Ngoc Son temples in the middle of the lake.

Overnight at Hotel in Hanoi.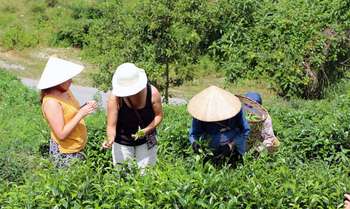 Day 03 : Hanoi – Nghia Lo (B/L/D)
Green tea hill Thanh Son and Rice Valley Muong Lo.

In the morning, meet our tour guide and driver at your hotel and transfer to Muong Lo via Thanh Son. Muong Lo is known as one of the most 4 important fertile valleys of the north west ( Muong Thanh in Dien Bien Phu, Muong Tac in Phu Yen and Muong Than in Than Uyen) in which the Thais ethnic predominates. The village consists of hundreds of house on wooden stilts. Thais people cultivate the water rice.

Drive to the national road number 32 along the black river (Da River) one of the most important rivers in the northwest. In Thanh Son, we will make a stop to visit the green tea plantation hill then walk through the villages of houses on stilts. It is Muong ethnic, considered as Authentic Viet. Muong ethnic group is one of few communities in the north that is immune to Chinese influence.
Arrive in Nghia Lo, check in home stay of Thai village and enjoy the green tea and their hospitality.
Walking or biking around the Thai village to discover the beautiful rice field valley and hamlets that still preserves authentic house on stilts, especially, meet the friendly locals.
Back to the home stay for shower and rest.

Dinner will be served with special traditional local foods.
Driving time: 5hours – 200km
Cycling: 5-10km depends on your interests.
Overnight in Nghia Lo.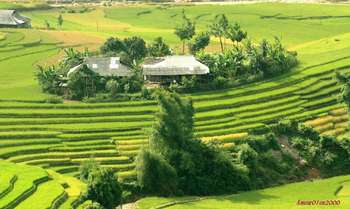 Day 04 : Muong Lo(Nghia Lo) – Tu Le – Mu Cang Chai (B/L/D)
Thai people in Tu Le Valley – Khau Pha pass – Mu Cang Chai rice terraces.

After breakfast, visit a local market in Nghia Lo then transfer to Mu Cang Chai via Tu Le. Mu Cang Chai is well known for its marvelous rice terrace considered as the most beautiful in the world.
In 2007, Che Cu Nha, De Su Phinh, La Pan Tan were recognized the outdoor masterpiece on the list of national heritage.
At the exit of Nghia Lo, you will cross the hilly region populated by Zao on the hills and Zay in the valley. Stop by chance to take photos and meet the local people on the way.
Arrive in Tu Le. It is possible to trek to the valley where Thai people in the house on stilts. Several unusual encounters by chance that allow you immerse yourself into the authentic local life.

In the afternoon, continue to Khau Pha pass which offer you a splendid panorama in the valley of rice terrace. Then the car will take you to La Pan Tan which is the legendary routes of photographers.
You will admire the gorgeous rice terrace masterpieces created by Hmong peasant artists from generation to generation.
Enjoy the majestic landscapes and following the route from La Pan Tan – Mam Xoi.

Arrive in the village and take a shower and rest
Enjoy dinner and overnight in homestay.
Driving time: 3hour – 100km
Trekking: 2-3 hours (optional).
Overnight in Mu Cang Chai.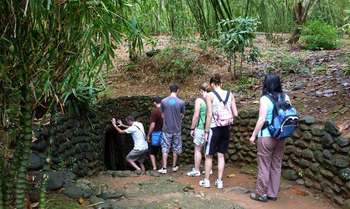 Day 05 : Mu Cang Chai – Than Uyen – Tuan Giao – Dien Bien (B/L/-)
Thai region and Dien Bien Phu Basin.

Depart to Dien Bien Phu via Tuan Giao, the beautiful landscape of rice terrace and mountain will follow you along the way. From Than Uyen, we turn to national road 279 to Tuan Giao. Not many traffic on this route.
On arrival in Ban Chat reservoir, a large reservoir will accompany you for 20km with a nice view to the lake. Stop for a short walk to enjoy the tranquility and spectacular landscape. Keep driving to Pa Uon Bridge in Quynh Nhai, crossing Da River. Da River is one of the most important rivers in the north. Another stop for great photos and meets the local people. Arrive in Tuan Giao at noon and enjoy lunch at local restaurant.

Continue to Dien Bien Phu, crossing the region of black Thai and white Thai.
Dien Bien Phu is very important place. This is the valley with 18km long and 6km wide surrounded by 1000m high mountains. It is strategical location in the borders of three countries: Vietnam, Laos, and China. The valley is the main battlefield between Viet Minh and French expeditionary force in 1954.

Arrive in Dien Bien Phu at 15.30; take a visit to discover War Museum, A2 hill which offers a panorama view to the basin, De Castries' command post and the memorial to the soldiers of French expeditionary force, built 1992, it symbolizes for conciliation between Vietnam and France.
Check in hotel and relax
Driving time: 6 hours – 220km.
Overnight in Dien Bien Phu city.

Note: the next day, it is possible to go to Laos via the border gate Tay Trang , 40km from Dien Bien Phu city. Depart from hotel to Tay Trang, arrive in the border, check out of Vietnam then Laos tour guide will welcome you.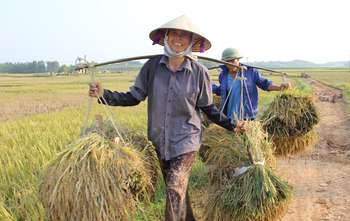 Day 06 : Dien Bien Phu – Muong Lay – Lai Chau (B/L/D)
The region of Hmong and Kho Mu.

Depart to Lai Chau, 20km from Dien Bien Phu, home to numerous or ethnic group including Kho Mu. Originally from Northern Laos, There are 60 000 Kho Mu people live on the hills slopes between Hmong in the upper and Thai in the lower. Discover the Kho Mu. You will find yourself in the land of colorful Hmong people, crossing Muong Cha, Muong Lay. Meet the local women in their colorful tradition dress and wearing silver or golden jewelries. Stop to discover the villages, authentic life and meet the locals.

Arrive in Muong Lay – a relocation place for hundreds of Thai villagers. Previously, they lived in the valleys flooded by the reservoir for hydroelectric Lai Chau – Son La. Stop if you would like a tea break.

The journey is accompanied by the Nam Na River and the beautiful surrounding landscapes.
Discover Thai and Hmong village on the way before arrival in Lai Chau City in the late afternoon.

Check in hotel and relax.
Driving time: 6 hours – 200km.
Overnight in Lai Chau.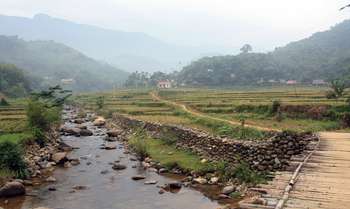 Day 07 : Lai Chau – Na Tam – Sapa (B/L/-)
The region of Laos and Lu ethnic – Crossing Hoang Lien Son pass ( O quy Ho pass).

In the morning, depart to Sapa along the Hoang Lien Son mountain range.
At the exit of Tam Duong, we will turn right to visit Nam Tam Village where the Laos and Lu people live.
This is a beautiful rural tranquil landscape.

Traditionally, the local women are distinguished by black teeth and indigo colored clothing encrusted with silver pieces. Take a 2 hour hiking through the river, villages, rice fields, hills and encounter the local.
Meet our driver for a transfer to Sapa, crossing Hoang Lien Son pass (O Quy Ho pass). This is the longest and highest pass in Vietnam with 54km in length and 2047m in height. Stop to relax at the top of the pass. It is absolutely gorgeous and grandiose landscape from the pass, also a great place for photos.

Arrive in Sapa in the afternoon. This is a town discovered by French in 1903. With temperature climate, Sapa became an attraction for holiday with beautiful rice valley, splendid mountain range and the diversity of minority tribes such as Black Hmong, Red Zao, Zay ethnic…

Driving time: 4hours – 140km
Trekking: 2 hours in Na Tam.
Overnight in Sapa.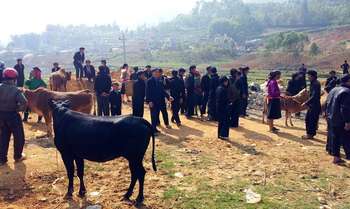 Day 08 : Sapa – Bac Ha (B/L/-)
Ma Tra Valley – Ta Phin and Bac Ha – the plum plateau.

Departure from your accommodation for the hike following the itinerary : Ma Tra – Ta Phin which is less touristic. The journey will lead you to the superb rice terrace valley, meeting the local people of Black Hmong and Red Zao ethnic group. They were original from south of China. They settled in Vietnam in the 11 century. They live in the high altitude and far away from modern world. This helps them to preserve their traditional, their own language and especially their ancestral way of life. Make a stop on the way to visit a Hmong family in Ma Tra Village, and a school. After 3 hour trekking, you will reach to Red Zao village to pick up our car for transfer to Sapa.

In the afternoon, transfer in Bac Ha via Lao Cai City. Stop in the city for a visit Vietnam and China border gate.
Arrive in Bac Ha in the late afternoon. Located at the altitudes of 1000m, Bac Ha is home to several ethnic group such as colorful Hmong, Phu La and Tays. Bac Ha is well known for its weekly colorful Sunday market surrounded by wild and beautiful scenery. Bac Ha market is not only for goods exchange but also the culture exchange of the ethnic groups for centuries.

Overnight in hotel.
Walking distance: 12km – 3 hours.
Driving distance: 100km – 3 hours.
Level: Moderate.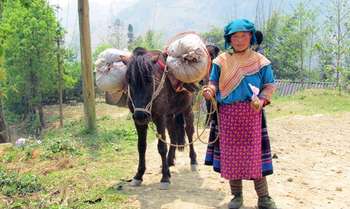 Day 09 : Bac Ha – Sin Man (B/L/D)
In the morning, it is possible to visit one of the ethic markets in Bac Ha: Bac Ha market on Sunday, Can Cau market on Saturday.

Depart to Sin Man, a town at the end of the territory at the Vietnam and China border. En-route, you will do a trip to the center of Lung Cai – Lan Ma communes. Discover the villages, primary school and boarding school for ethnic children. They have to stay at boarding school the entire week. They do not go home till the weekend. Meet teachers and children. This is a good opportunity to interact with them.
From Lan Ma, we will start a hiking to Lan Ma pass through authentic Hmong villages, a splendid landscape where you can admire the magnificent rice terrace fields. (This trekking route may be done in opposite direction to enjoy the descent of pass).

Enjoy the picnic lunch
Meet our driver and transfer to Sin Man. Stop to take photos of beauty of wild landscapes and meet the locals.
Arrive in Sin Man, the main town of the district and it is very difficult to access. There is a beautiful ethnic market on Sunday which is well preserved. This is place for dozen of ethnic groups to meet and exchange their goods (housewives, edible goods, crafts, animals) and specialties are also a good way to get closest to their local life.

Driving time: 2hours – 40km
Walking time: 3 hours.
Overnight in Sin Man.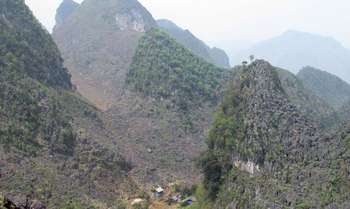 Day 10 : Sin Man – Ha Giang (B/L/D)
A driving day to Ha Giang via the Hoang Su Phi district.

This part will surprise you with its beautiful landscape cover with rice terrace and green tea hills in Hoang Su Phi. Not only has a chance of encounters with colorful ethnic group on route but also to take the masterpiece photos of the century.
Arrive in Ha Giang in the middle afternoon, beginning a trekking to the Me - Lup – Tha Village. Featuring peaceful beauty, these villages included hundreds of houses on wooden stilts and covered by palm leaves. In frond of houses, there are small ponds for raising fishes and water hyacinths cultivation for pigs. You will be welcomed by big smiles from the villagers testifying their legendary hospitality. Visit a typical house and discover the local daily life.

Arrive in Tha Village, a village on the palm hills with rice fields. This will give you a rest in the serenity.
Check in your home stay then take a walk around the village to catch the daily life rhythm in the mountain before sunset.
Enjoy local delicious dinner.

Driving time: 5 hours – 140km
Walking distance: 5km – 1.5 hours.
Overnight in Tha Village - home stay (basic comfort, house on stilts).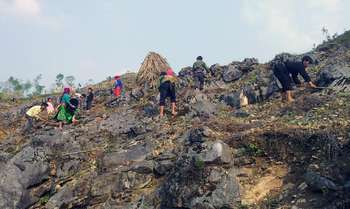 Day 11 : Ha Giang – Dong Van (B/L/D)
Dong Van Karst Plateau Geopark – home to Hmong ethnic people.

Depart to Dong Van, the magical landscapes of this region are present along the route.
Before arrival in Quan Ba pass, we will stop to visit a village of Bo Y in the Quyet Tien Commune. Their origin is from China. The Bo Y is a small community of 2000 people who populate in the mountainous parts of the north.
Reach to the Quan Ba pass, on the top of the pass. Take a short break and admire the Quan Ba town with the famous twin mountain of fairy (Nui Co Tien).

After Quan Ba, you will enter the Limestone rock plateau zone, considered as mountainous Halong Bay. This majestic and grandiose natural treasure has been listed in the World Geological Park book.
On the way, we will discover "Nha Trinh Tuong" by a walking to the Lung Hoa Village. This is the typical house of Hmong people in the village which built by sticky ground.
Then visit the Palace of Hmong King (Dinh Vua Meo). Dating back 100 years ago, far from the plain, the regions of Quan Ba, Yen Minh, Dong Van, Meo Vac created their autonomous zone with their own king.

They cultivated poppies and their economy based on the business opium with China.
Arrive in Dong Van, check in Hotel and relax.
Driving time: 5 hours – 150km.
Overnight in Dong Van.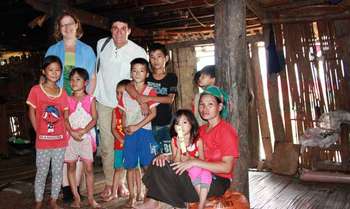 Day 12 : Dong Van – Bao Lac (B/L/D)
Grandiose Ma Pi Leng pass, the region of Black Lo Lo ethnic.

In the morning, we could visit Dong Van and Meo Vac market if you come on Sunday.
After breakfast at hotel, we will depart from your hotel in Dong Van to Meo Vac by crossing Ma Pi Leng Pass which seduces you with the breathtaking view of limestone mountains, Nho Que River and H Mong Villages nested in the mountain.

Continue to Bao Lac. This is well known for Black Lo Lo ethnic group. This region is highlighted by French Media "The journey into unknown land". This documentary was filmed in Khuoi Khon village of Lo Lo people, 9km away from Bao Lac town with the rugby player Michalak.
Lunch is served in Bao Lac town and check in hotel.

In the afternoon, we transfer to visit Coc Xa Village, in the Na Van commune. This village of Lo Lo ethic remains more authentic then Khuoi Khon village which became to be touristic after the famous documentary. Walking through the rice fields and trails in the village, visit the local people's house, talking with the host to understand more about the local life as well as their traditional customs.

Back to the town and overnight in hotel.
Driving time: 3hours – 130km.
Overnight in Bao Lac.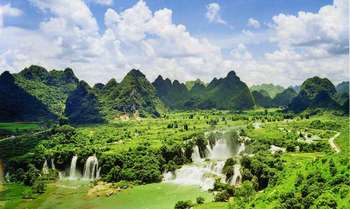 Day 13 : Bao Lac – Cao Bang (B/L/D)
Into the Land of San Chi and Zao.

Depart to Cao Bang via Tinh Tuc. 30km from Bao Lac, in Hung Dao commune, there is a beautiful village of San Chi ethnic. Of course, we will stop to visit and discover the beauty of the village. You are one of a few travelers to visit this area because of its hidden location behind the hill. The village with hundreds of houses on stilts nested on the side of mountains and view to beautiful valley.

To reach to the village, you will have to walk up 2km steep. The more higher you walk, the better view you get. Visit a family to apprehend the authentic life of this ethnic group.
Continue to Cao Bang, you will be surprised with the magnificent nature where the mountains gently meet the valleys of rice terrace. Stop to film or take photo whenever possible.
Arrive in Cao Bang in the afternoon. Check in hotel and walking around to the central market in the city.

Driving time: 4 hour – 130km
Walking distance: 4km.
Overnight at hotel in Cao Bang.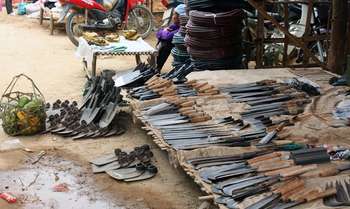 Day 14 : Cao Bang – Ban Gioc Waterfall – Phuc Sen village (B/L/D)
Immerse into Nung ethnic. Discover the magical Ban Gioc Waterfall and Nguom Ngao cave.

In the morning, depart from hotel to Ban Gioc waterfall located in the border between Vietnam and China. It is 30m in height and 208m in width. It is the most beautiful waterfall in Vietnam.
After 2 hour driving through the magical limestone region, you will arrive in Ban Gioc waterfall to immerse into the natural masterpiece and get the full of relaxation.
In the afternoon, transfer to visit Nguom Ngao cave, reaching by walking hundred steps. The cave locates in the maize valley with 2km in length. It is filled of magnificent stalactites and stalagmites. It was a shelter for thousand local people during the Vietnam – China border war.

On the same way to Cao Bang, we will visit to Phuc Sen, a blacksmith village. You will have an opportunity to burn your name into your souvenir knife.
You will be just few travelers stay a night in the village. The comfort is limited. However, you will enjoy the friendly atmosphere the legendary hospitality of Nung ethnic and their authentic lifestyle.

Dinner and overnight in homestay in Phuc Sen village.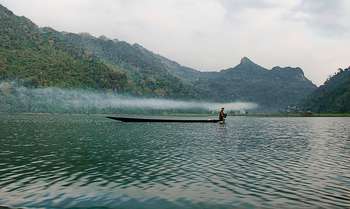 Day 15 : Phuc Sen – Cao Bang – Ba Be (B/L/D)
Immerse in Nung Village.

In the morning, depart from your homestay for 2 hour trekking to Nung village. You will discover the craft villages specialized in manufacture of paper and incense sticks. The landscape of rice paddies, the limestone peak and the Nung ethnic with their exceptional hospitality will bring you surprise to surprise.

According to our clients, this is one of the itineraries which gave them the most emotion.
In the Canh Phung Tren village, meet our driver for a transfer to Ba Be. On the way, you will enjoy the magnificent landscape of the villages nestled in the flank of mountain. Stop on the way to meet the natives and take photos wherever possible.

Arrival in Ba Be, check in your accommodation at Pac Ngoi Village and take a cycling through several villages of Tay ethnic to Hua Ma cave ( 5km from the village). This is an attractive place with multiform formation of stalactites and stalagmites.
Back to village for dinner and home stay in the late afternoon.

Driving time: 4 hours – 140km.
Overnight in Pac Ngoi village.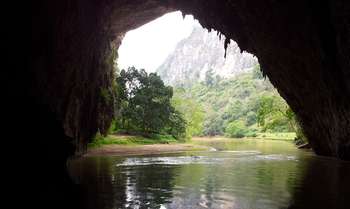 Day 16 : Ba Be full Day tour (B/L/D)
In the morning, transfer from the village to Buoc Lom Pier to get a boat trip along the Nang river.

Enjoy the beautiful scenery of forests along the river. Visit the Puong cave, home to thousands of bats inside the cave. The boat will go through the cave toward to Dau Dang waterfall.
Back the boat to the lake, stop on the fairy pond located in the middle of primitive forest. Keep cruising on the lake and possible to swim if the weather permits.
Disembarkation at 4.00pm. Walk from pier to the village.

Dinner and overnight home stay in Pac Ngoi Village.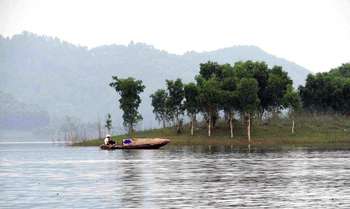 Day 17 : Ba Be – Thac Ba (B/L/D)
Relaxing in the Ba Be National Park.

Meet our driver for a transfer to Thac Ba
On the way; visit Tay ethnic villages with their house on stilts, the landscapes of tea plantation hill, palm plantation and the rice valleys. This route has not many tourists. Visit the villages to meet the locals along the way and obviously do not miss some stops to take the photos of the century whenever possible.
Then visit Tan Trao, a former Viet Minh residence base during the first Indochina war.

Arrive in Thac Ba in the late afternoon.
Arrange homestay and enjoy dinner with the host.
Overnight in Thac Ba.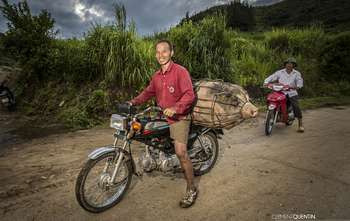 Day 18 : Thac Ba – Hanoi (B/L/-)
In the morning, take a boat trip to discover Thac Ba Lake an artificial lake used for hydroelectric.

In front of your eyes, you will admire the huge valley covered by water and numerous hilltops like hundreds of islets which bringing a certain charm to the lake.
Visit a Zao village.
Enjoy lunch before saying good bye the host to transfer back to Hanoi

Arrive in Hanoi late afternoon.
Check in hotel and relax.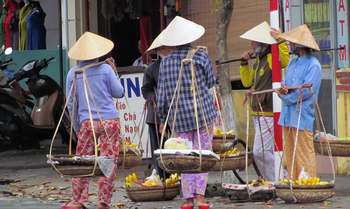 Day 19 : Hanoi – Departure (B/-/-)
Enjoy your last minutes in Hanoi – the capital of Vietnam before transfer to airport for your next destination.

Tour ends.
Private tour price
The prices are quoted on USD and based on per pax (Twin/double sharing - 3 star accommodation)
Valid to 31 December 2018
Group size
1 pax
2 pax
3 - 4 pax
5 - 7 pax
>8 pax
Grand total price/pax
2925
1685
1325
1060
Contact us
Single Supplement
255
Service Included
Accommodation with daily breakfast 
Private car transfer
All entrance fees
Student Bikes
Boat trip
English speaking guide
Meals as indicated (B=Breakfast, L = Lunch, D = Dinner)
Vietnam Visa approval letter.
Service charges and Tax
Service Not Included
International flight tickets from/to your country
Travel insurance
Meals not indicated 
Personal Expenses: laundry, drinking, telephone…
Tips and gratuities
Other tours
Create your own trip or see other travel ideas
What clients say about us?