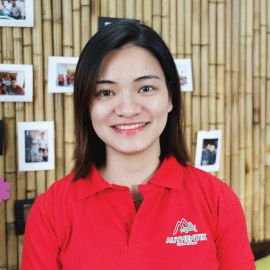 Hong Nhung
- Travel consultant
""Travel is fatal to prejudice, bigotry, and narrow mindedness., and many of our people need it sorely on these accounts." ~ Mark Twain"
Xin chào,
I started learning French since secondary shool and was lucky to had further education in this amazing country. With the desire to spread out the hidden charms of vietnamese people and culture, I chose tourism and hospitality as my life purpose. Travelling, to me, is not just putting myself in a place to take photo and carry home some souvenirs, but also a chance to meet up local people, to expxlore new culture and to feel every breath in every destination I been to.
My favorite destination ?
I would say it is Ba Be lake. With mejestic mountainous areas, poetic view off rice paddy field, sereinity of natural lake and stilt house, Ba Be gets my heart at the very first sight. The most wonderful moment in Ba Be must be the morining, when early frost slightly fall down to the surface of the lake. Once the sun rises, the senery suddenly become beautiful and mysterious more thane ver. The thing I love the most in Ba Be is to spend all night in the stilt house of Tay people.
If I have an advice for you
Dont forget your camera
My favorite season
I set my heart in Hanoi everytime the Autumn falls over this ancient city. With the incandescent sunlight, fine weather and the lovely fragment of Alstonia flower, Ha noi is beautiful more than ever.
Souvernir – I would bring home
A tailor made Ao dai would be a wonderful gift for every woman.
My dream trip
A honey moon in Corse island